There are multiple activities can be done in the kitchen including frying, boiling, baking, and so on.
All of those food-producing activities can easily leave stains that don't look good and it can easily attract bacteria.
If you want a clean kitchen but you hate the cleaning activity itself, you might need these cleaning hacks below!
These kitchen cleaning hacks are so smart and inexpensive. So, would you give them a try?
Clean your oven glass using baking soda and aluminium foil
Michelle from Crafty Morning got a brilliant idea.
She poured hot water to the oven glass, covered it with baking soda, and after 30 seconds she scrubbed the oven glass using an aluminium foil ball.
After that, she wiped it using paper towels (you might need some fresh water to remove the baking soda film).
The result is fantastic. The oven glass looks so clean like new!
And guess what, you can try this trick at home in under 5 minutes!
Clean your oven rack with vinegar + baking soda + dish soap
Sometimes oven racks get so dirty and it's just so uncomfortable to reuse it without get it cleaned up first.
If you want to clean your oven rack quickly, you can try cleaning it using baking soda, vinegar, and some drop of dish soap.
Take out the oven racks from the oven and position it across the sink to make cleaning easier.
Spray the oven racks with vinegar, and then scrub it with a stainless steel scrubber that has been dipped inside a baking soda+vinegar mixture.
After that, rinse it off and let it dry.
Clean your hood vent filter cheaply
Hood vent filter isn't something we look at every day. And when we don't realize it, this thing keeps building up dirt and grease and becomes so gross time by time. What if I told you that you can clean a super dirty vent filter for under 30 minutes?
Just prepare water in the sink and pour 1/4 of borax there. Put 2 or 3 greasy vent filters there and let it sit for 15 minutes. Wear a glove, pick the filters, and rinse them all with clean water
Remove grease from your kitchen cabinets with dish soap + baking soda + water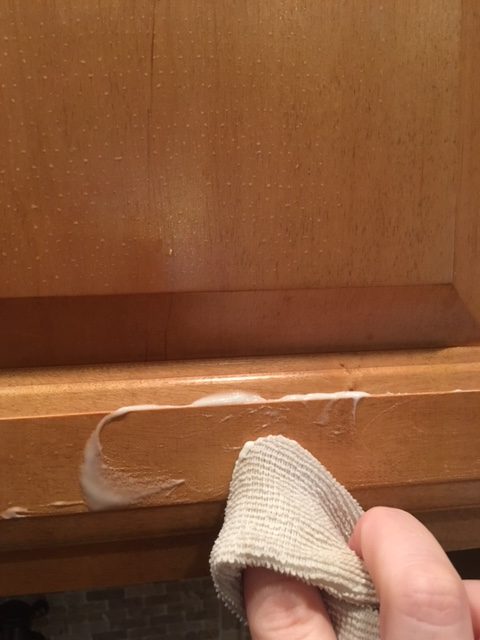 Mix 1 tbsp of baking soda, 1/2 tbsp of dish soap, and 1/2 of water to make a paste.
Using a microfibre cloth, apply the paste to the greasy area and rub it gently in a circular motion.
Once the greasy spot is gone, grab a warm cloth and wash the area quickly.
Don't forget to dry the cleaned area with a clean cloth.
You can repeat this easy trick to all over the greasy spots on your kitchen cabinets.
Clean your glass cooktop using dollar store cleaning products
A glass cooktop itself is already a sanity-saving invention. But how to actually clean this genius thing?
It's pretty easy and actually super cheap.
Squirt Dawn dish soap all over the cooktop surface. Sprinkle some baking soda on it and some hydrogen peroxide.
Grab your scrubbing brush to mix those cleaning products together on the cooktop surface and leave it for a few minutes.
For the final touch, wipe them all with a clean cloth. Be prepared to get amazed!
Clean your microwave
If your microwave needs some cleaning inside but you're feeling so lazy to do it, just do it in the lazy way.
Squeeze a lemon and pour the juice into a small bowl and heat it up inside the microwave for 3 minutes.
After 3 minutes of heating + several minutes of cooling down, carefully open the microwave, take out the bowl and the turntable plate.
After that, just wipe the interior of the microwave quickly using a damp microfiber cloth.
Don't forget to wash and dry the turntable plate and put it back inside your clean microwave.
Unclog the sink drain with baking soda and vinegar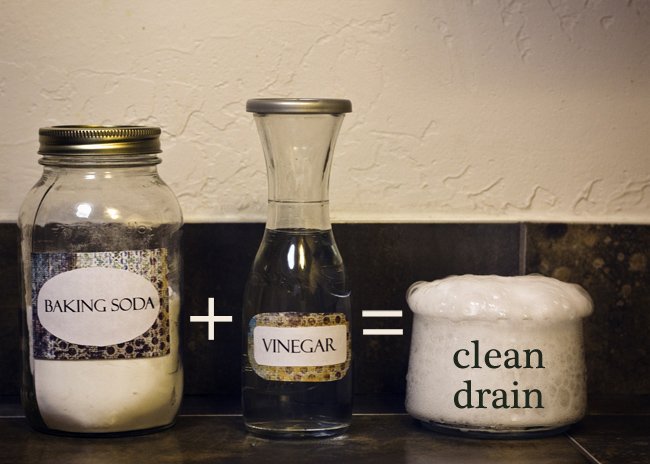 Unclogging your kitchen sink drain can be super easy and super cheap.
Just pour a cup of hot water down the drain, then pour half a cup of baking soda down the drain (slowly, not in a bulk) and let the baking soda sit for 2-3 few minutes.
After that, pour 2 cups of vinegar-hot water mixture down the drain, cover with the drain plug, and wait for 5-10 minutes.
For the final touch, flush it all with a pot of boiling hot water.
Soak your water faucet in vinegar
As you can see in the picture, prepare a vinegar-filled bag, place your faucet inside, and tie it up.
Wait for several minutes and give a quick brush for a final touch. See the full instructions here.
Clean the wooden cutting board with lemon and salt
Cleaning your wooden cutting board can be really easy with this trick.
Just pour a tbsp of salt on top of your cutting board (you can adjust the amount to your cutting board size).
Grab half of lemon to rub the salted area while squeezing it (to produce the juice). You can do it for 2-3 minutes.
Rinse it off with water and let the board air dry.
How easy is that?!
Clean the plastic cutting board with hydrogen peroxide + baking soda + dishwashing detergent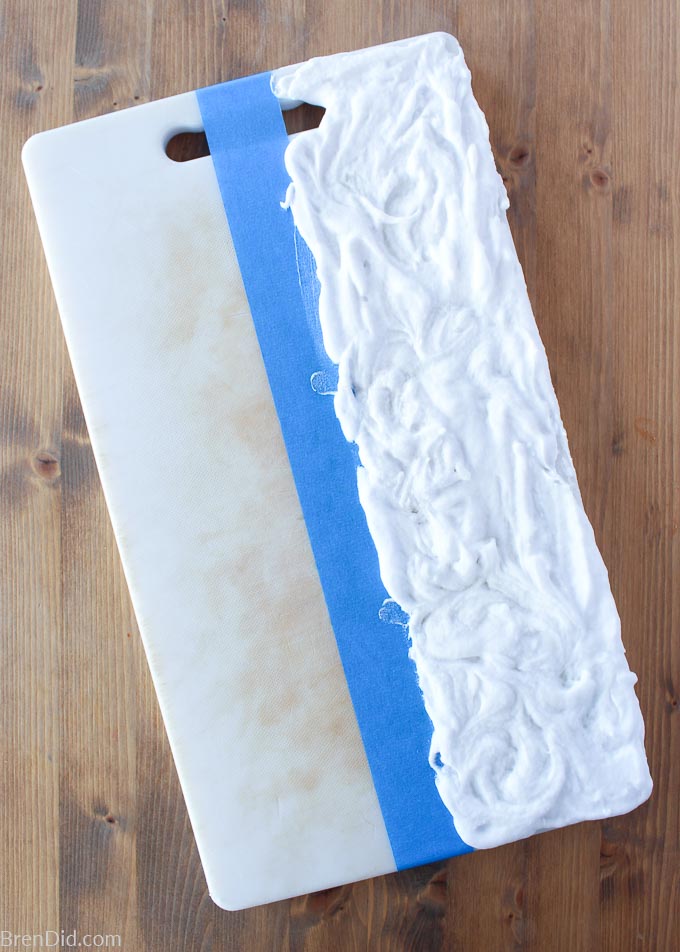 You can easily clean your plastic cutting board with a mixture of hydrogen peroxide (1 tbsp) + dishwashing detergent (1 tbsp) + baking soda (3 tbsp).
Spread the mixture all over the cutting board and let it sit overnight.
In the next morning, wipe it off, wash with dishwashing detergent and water, and let it dry.