9 DIY Home Decor Ideas For Renters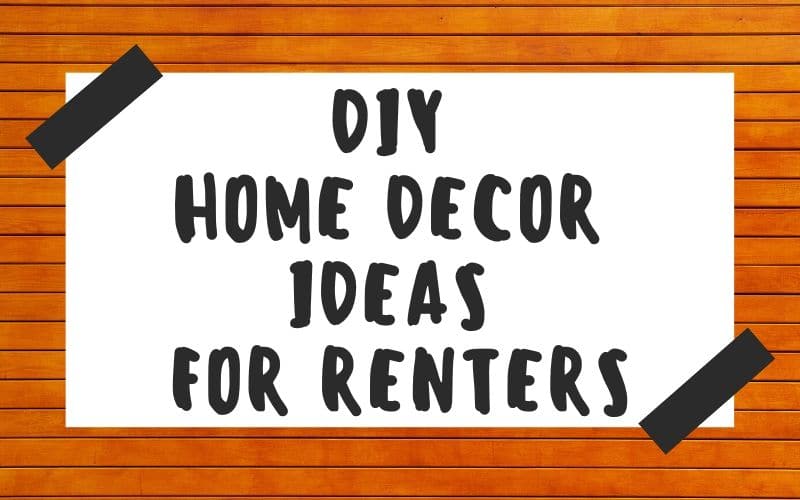 When you live in your own house, you can decorate your home as you like.
You can change the paint, change the tiles, using nails on the walls, etc.
But things are a little bit different when you live in a rental apartment.
When you want to style up your rental, make sure you don't break the rules made by the landlord.
So, before changing something in your apartment, check again. Are you permitted to do it?
While some landlord might have a special request/consideration toward the tenant's behavior, there are some "common" rules for renters, for example:
-Do not make damage to the wall. We don't really know how thin or fragile is it the interior wall of the rental. If you need to make some holes (using nails especially) get permission from the landlord first.
-Do not change any paint unless you get clear permission. It includes the paint of the wall, woods, and furniture.
There might be more rules your landlord wants you to know.
To be on the safe side, always get written permission before changing something (especially something permanent).
If you need some decor ideas that require very little to zero damage, then check out these DIY home decor ideas!
These decorations don't require you to make damage to the wall. Neither do they require a permanent change of the furniture.
These DIY decorations are budget-friendly too!
Pick your favorite ideas and try it at home!
DIY Floral Bookends
Why does it look so easy to make?
Because it is!!
This simple yet pretty decoration is budget-friendly as well.
DIY Blanket Ladder
Be careful not to make any scratch on the wall or the floor.
You can "protect" the "feet" of the ladder with a piece of soft cloth or put a rug on the floor.
Peel and Stick Kitchen Backsplash
When you're bored with the paint of your kitchen but you are afraid to make any permanent changes, give the "peel and stick" backsplash a try!
This idea serves an impressive transformation and if you do it carefully you can do zero damage to the wall!
Also, be careful when choosing the right product so it doesn't hurt the paint of the wall.
Perfect for a rental apartment!
DIY Faux Aged Terra Cotta Pots
Make a regular clay pot looks dramatic and use it to display your favorite succulent!
This idea is super doable and you can do it inexpensively!
Perfect for renters who love indoor gardening!
Concrete Succulent Planters
This looks amazing!!
If you want to build a little planter and shape it as you like, you can try this idea.
You can make a geometrical shape using concrete and cupboard. Oh, and you can also adjust the size as you want!!
You can also pick your own color to put on the planter.
Nautical Rope Decor
Sharpie Shiplap
Heads up!
I think this decor idea is actually brilliant. But before handing over your rental key back to your landlord, don't forget to re-paint the wall.
You can just cover it easily with a primer AND paint with a suitable color. You can do it in 1 hour or less.
But still, if you feel too lazy for repainting or too afraid to ask permission from your landlord, don't do this. Do another DIY idea instead.
Standing "Wall Decor"
If your landlord is too strict with the "wall" rule that you cannot hang anything on the wall, you can still make decorations and make it "standing" or lean on the wall.
Removable "Floor Tile"
Not all rental property has beautiful flooring.
If you feel your apartment flooring looks too "imperfect" then you can try temporary flooring solution like removable vinyl.
Check the product and make sure it's suitable for your current flooring type (wood/tiles).
After some time the vinyl might need replacement. Be extra careful when peeling it off so you don't make any damage to the floor.
Speak to your landlord first to avoid any problem.
Happy decorating!