Kitchen is probably the most cluttered room in our homes, am I right?
There are so many things to store in the kitchen.
Sometimes there is too many stuff with too little storage space.
That's why it's common to utilize that awkward space under the kitchen sink.
Hey, it's actually a great idea.
But the idea needs to be executed effectively so everything can be accessed easily.
Do you need some inspirations?
Go check out these awesome ideas below!
Put some cheap stackable bins
What a clever idea!
That space under the sink is cluttered already (with pipes and stuff). So all you can do is adjusting the new organizers to fit precisely in the remaining space.
With small stackable bins, you can stack multiple bins in the "free area" and you can place a single bin under the pipes, if possible.
Install tension rods for cleaning products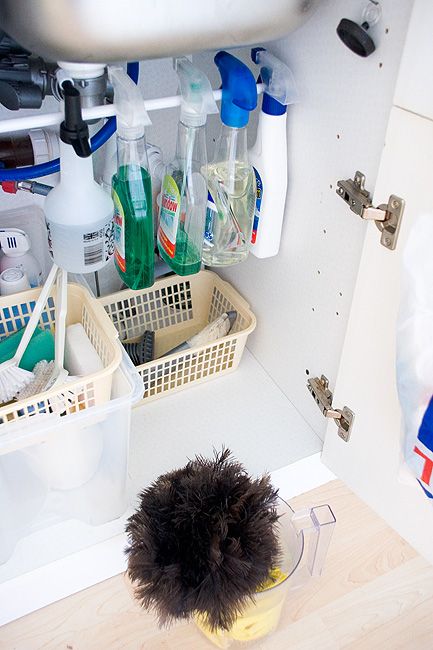 This idea is so genius!
If you have so many cleaning products packed in multiple spray bottles, you can try this genius idea at home!
By applying this hack, you can optimize the space effectively!
If plastic bin is not your favorite thing, you can try chrome wire basket instead
Dollar store organizers are cheap and useful.
But if you want to transform the look of your under-the-sink cabinet, you can use chrome baskets instead.
You can easily grab that kind of chrome sliding basket here.
Clear Containers
Now if you're afraid that the colored plastic bins prevent you from accessing things quickly (and you're not into wire baskets as well) you can use clear stackable containers.
This way, you can find things easily and quickly!
Label the containers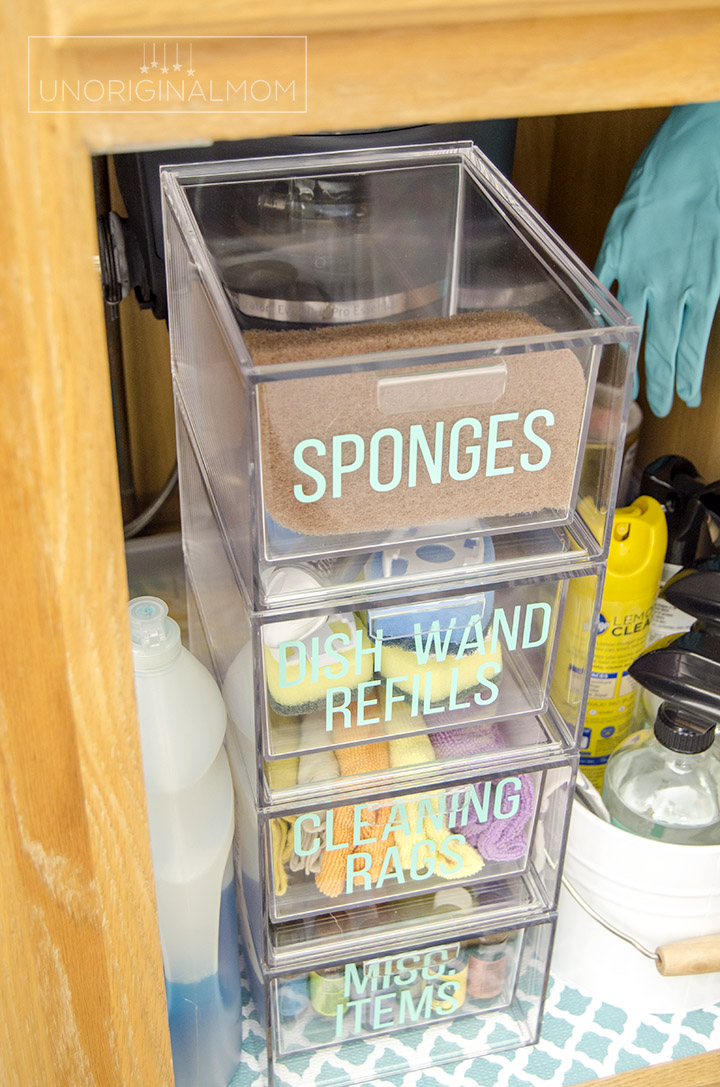 To help you categorize things, you can add labels to every container so you can decide quickly where to put things and where to find them.
If huge letters feel bothering for you, then you can just put smaller labels instead.
Make the door work harder
Yes. Use the door for organizing things as well.
It's a space-optimizing trick.
You can install a mini basket or caddy and use them to store small cleaning supplies.
Use lazy susan
How can we leave lazy susan while this tool is so useful for organizing small spaces?
You can put lazy susan inside the cabinet under your sink to organize bottled cleaning products.
This turntable organizer is so helpful to put and pick things quickly.
Oh, and by the way, you can easily get lazy susan here.
Hang those gloves
Grommet the cleaning gloves and hang them on the under-the-sink cabinet door.
This idea looks so great and it makes the gloves so easy to access!
Organize the trashbags like a pro
Attach those trashbag rolls on the cabinet wall under your sink using some dowels and brackets!
This is a genius way to optimize the space and to make trashbags easy to access!
Happy organizing!