The kitchen is an important part of a building because that is where delicious meals are being processed or prepared for the family and guests. In preparing the meals, basic kitchen utensils are being used. The Microwave is one of the kitchen utensils used to heat, cook or store food for consumption. There are several opinions on the best type of materials to use in the microwave to heat food and this post generally discusses food glassware for microwave.
You will get to know the different glasswares that are available; if glassware can be used in the microwave; important factors to consider when buying glassware; how to know if glass utensils are safe for microwave and also, a review of 3 of the best glassware that can go in the microwave safely.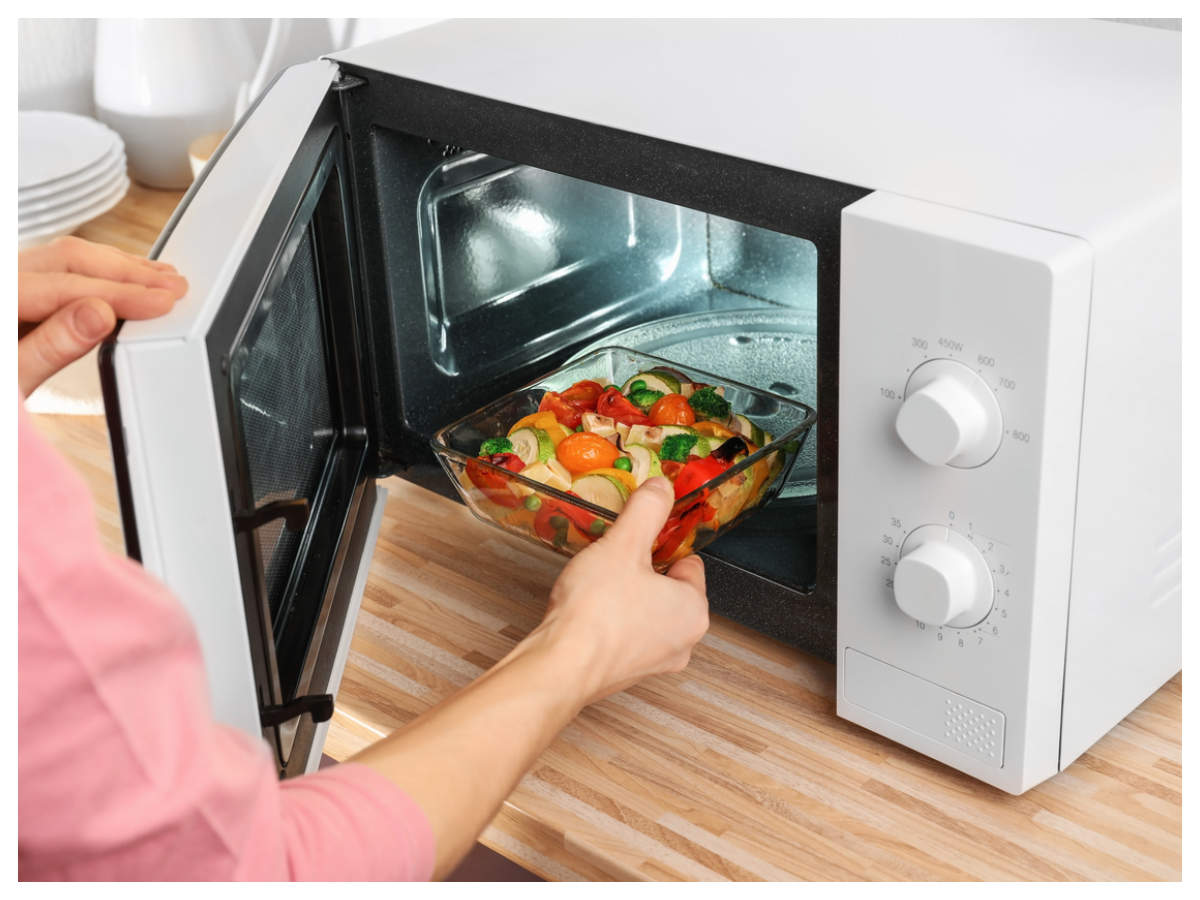 Best 3 Glasswares that are Microwave-safe
In a hurry? Let me just share with you the best 3 microwave-safe glasswares right away:
Are Glass Dishes Microwave-safe In General?
In our homes, several dishes such as bowls and plates are used in the microwave. However, caution has to be taken to choose the right type of dishes to use in the microwave. If you are wondering whether glasswares are safe to use to heat food in the microwave; the answer is yes.
However, glassware that has tiny air bubbles are not safe to use in the microwave because the heat could be expanded through the tiny air bubbles which cause the glassware to explode inside the microwave.
Also, Glasswares that have metal components on it should not be used because the metal could cause a spark which would lead to the glass dish shattering inside the microwave.
What Are Glasswares?
The term glassware is made up of two words glass and ware. Glass refers to a hard brittle substance, commonly transparent, which generally consists of dissolved silica and silicates (soda and lime).
On the other hand, ware could be referred to as any tangible object made up of a particular substance. Put together, glasswares are cutleries or dishes made up of glass components. Aside it being used as kitchen utensils, it can be used to make tables, windows and other objects.
Glasswares such as cups, food storage containers are most times placed on the dining table or kitchen and also used in the preparation of foods. Glasswares can be used for drinking, storage, cooking, reheating or warming food.
What Are The Different Glasswares That Are Available
In case you have not noticed, there are different types of glassware which can be used for heating or food storage. For someone who has no idea, it may not be easy to differentiate by just looking at them. But that's fine, it quite easy to tell them apart once you see the glass-make as written by the manufacturer. So, let me share the major types and show you what makes them different. This way, you would know what to do with each one you may have. They are:
Borosilicate Glassware: These are products made up of borosilicate glass materials. The borosilicate is a type of glass comprising of silica and boron trioxide. Products made with this type of glass are more resistant to temperature shock than any other common type of glass. The borosilicate glassware can be used for various purposes such as cooking, lab equipment and medical services.
Pyrex Glassware: The pyrex glasswares are those type of glass materials that can be used for cooking, reheating or warming and baking. Pyrex glassware is usually dishwasher safe and you can also easily wash it using your hands with the aid of non-abrasive cleaners, plastic or pads made with nylon. The pyrex glasswares are products commonly used in the kitchen for heating or cooking. They can be used in the oven and microwave because they are much stronger than the regular glass.
Simax Glassware: Food containers made up of simax glass are suitable for fridge, freezer and heat sources. The simax glassware can be used in the oven and microwave. The nature of the simax glassware makes it possible for it to be used on the electric, gas and glass-ceramic hot plates.
Soda-Lime Glasswares: The soda-lime glass is generally regarded as safe for food storage and beverage products. It can be used on an electric pot, microwave or oven because it is made up of heat resistant components but cannot withstand EXTREME heat.

How To Know If Glass Utensils Are Safe For Microwave
Knowing if glass utensils are safe for your microwave is of great importance because you would not want to damage your microwave or cause any type of accident as a result of an explosion. There are easy steps you can use as a test to check if glass utensils are safe for your microwave. The steps include the following:
Fill the glass dish with water. Put the filled glass dish into the microwave. You should first of all check for the safety indicator on the glass dish to be sure it is safe for use in the microwave. The manufacturer usually indicates with a label at the bottom of the glass dish to indicate whether the material is safe in the microwave. So, ensure you read the label for safety precaution.
Switch on the Microwave with the filled glass dish inside: Ensure the glass dish can properly fit into the microwave. Then increase the heat level from the microwave buttons to a considerable level and wait for a minute (or 2 if your microwave doesn't heat fast).
Remove the water and check the temperature of the water: Turn off the power button of the microwave and use a potholder to remove the glass dish filled with water. This is where you do the main test by checking for the following:
– You should take important note by observing if the microwave and the glass dish/bowl is warm or hot, but the water inside the glass dish is cold. If this happens, it means it is unsafe. A warm dish signifies that it can absorb heat. And by absorbing heat, it can explode easily.
– The glass dish is safe to use in the microwave if it is cool and the water is warm. This implies that a cool dish means it doesn't absorb heat.
Mark or label your glass dish: If you have a lot of glass dishes, you can carry out this test on all your glass bowls to see which one you can use in the microwave. Putting marks or labelling a glass dish would help you know the dish that is safe for the microwave so that you don't end up blowing up your precious dishes. You can use a permanent marker to label the bottom of the glass dish based on the result of your test. Do not forget to label the glass dish and you can use any method. For example; you can mark with the letters SM which could mean Safe for Microwave. Or you use two lines (=). Just anything that would help you or others in the house know which to pop into the microwave.
12 Important Tips to Consider when buying Glasswares
There are some important factors to consider when selecting glassware to use, whether it is for storage, cooking or heating. If you are looking at getting the best glassware for your kitchen to be used in the microwave, here is a buyer's guide with a. some important tips that would guide your buying decision:
Look out for the size of the glassware. Ideally, it is good to buy glassware that can easily fit into your microwave.
The cost of the glassware should be considered. The price tag on the glassware product shouldn't cost you all your savings. Go for the one that is good and yet, does not cost so much. However, if you can afford something higher, then go for it as long as it has all the qualities you are looking for in a good microwave-safe glassware.
The quality of the glassware is of great importance. You should select glassware that is thick enough and would stand the test of time (or your microwave in this case).
The durability of the glassware should be considered. Select glassware that has a long-lasting lifespan. It is unwise to keep buying glasswares repeatedly over a short period of time, so you must go for a brand that delivers durable ones.
Pick one that is not susceptible to cracking. Look at the rims and edges of the glassware; glassware designed with rolled edges and rims would reduce chipping and cracking problems.
Avoid stemmed glasses because it could easily be broken. If at all you opt for stemmed glass, make sure the designs are harder to tip over.
Select glasswares that are airtight and watertight. Food stored in this type of glassware would hardly leak.
You have to consider the versatility of the glassware. Go for glasswares that you can easily use in microwave, oven or that can go directly into a heat source without causing much (or any) harm.
You have to consider value for money. Buy glasswares that can satisfy your needs or demand.
Look out for the weight of the glassware. Is it what you can easily carry when food is stored inside? Can your kids (if any) comfortably carry it around when they want to help in the kitchen? If the dish is lightweight enough and still strong, then it's a good option. But you can choose something heavy if that's fine with you.
You should also consider the washing of the glass dishes. Select glassware that is dishwasher-safe or can be cleaned easily without much stress put into washing.
Take out time to read the manual which contains the manufacturer's instruction on the particular product. Try to find out if such glassware can be used in the oven, microwave, and electric hot plates or can be stored inside the fridge or freezer. This would save you money, energy and the shock of opening your microwave/oven and coming face to face with shattered glass.
3 of the Best glassware That Can Safely Go In The Microwave
Having the right kind of glassware go into the microwave is of great importance. A wrong type of glass material going into the microwave could result in damage or explosion, therefore, precaution has to be taken when it comes to what to put in there. I want to save you the extra stress of going to scout for glassware that are microwave-safe by yourself. Using the above buyer's guide, I will be sharing with you 3 of the best safe glass dishes you can pop into the microwave. They fit well into the guide above and would serve you just the way you want them to.
So, the following well-researched glassware products are very suitable for your microwaves and are one of the best buys around:
Description of this Item:
The Razab Glass Food Storage containers are perfect for storing leftovers or when you are planning your weekly meal prep. They have a quality design made with locking lids so you do not need to worry about your meal spilling out of the glassware.
These glass dishes are airtight, leak-proof and can be used as a bakeware or for storage. The Rezab glass food storage can be used perfectly in the microwave, refrigerator, freezer. It has heat resistant up to 600oF, and thermal shock resistant up to 248oF. Please, note that the plastic products are not safe to use in the oven or microwave. Only use the glass bowls for heat contact. The plastic bowls can then be used for storage containers or lunch packs.
Features of the Item:
With this glassware, you can safely store your foods, fruits and vegetables and be sure it would keep them fresh always.
It is has a weight of 7.11 pounds
The package dimensions are 17.7 x 11.3 x 4.6 inches
RAZAB's glassware is made from Borosilicate glass which has superior heat resistance compared to other glass.
This is an excellent microwave-to-table glassware set. So, you don't have to bother much about dishing out the food once you finish heating/cooking.
Its colour is clear/transparent which makes it easy for you to monitor what you have inside while in use.
The glass container is made up of glass, silicone and plastic materials.
It is rectangular in shape which is the ideal shape for food storage.
It is airtight and leak-resistant. For this, you are sure that your food is safe whenever and wherever you place them.
They are safe for dishwasher, microwave, oven and freezer.
You can use this in the refrigerator, freezer, oven, microwave and dishwasher (top shelf). If you are using in the oven or microwave, it is best to take off the lids as they are plastic.
This product is free from harmful chemicals.
It is produced from durable glass materials which would last you for as long ads you handle with care.
This product is easy to clean and you can even have your dishwasher go the job if you are not up for the task.
Is this your kind of glassware? Grab this by heading over to the amazon page through this link. There you would find more details about it and also other users' reviews.
Description of this Item:
The Razab extra-large glass food containers are very ideal for events such as picnic, birthdays or wedding anniversaries. This product is the largest glass container set you can easily find online and it has amazing features which can meet your needs. These Razab largest food containers are airtight and watertight which means your meals are safe inside.
The different sizes of this product can be used in refrigerator, freezer, microwave and oven and it can be reused as much as you want. The food containers keep your leftover food fresh always. Also, you can cook your food directly in the containers which makes it even more convenient for you.
It comes in three different sizes which can perfectly serve your need depending on the amount of food you want to store in them.
Features of this Item:
It comes in three sets: extra-large 74 oz (2200 ml), Large 40 oz (1200ml) and Medium 27 oz (800 ml) sizes.
RAZAB's glassware is made of environmentally friendly, non-toxic and BPA-free premium Borosilicate glass.
It is airtight and watertight, thereby, protecting your food whenever it's stored inside.
They are all reusable and are also a refrigerator, freezer, microwave and dishwasher safe.
Even after cooking your food, you can directly store it in any of the containers.
It comes in a square shape that allows you to hold onto it easily without fear of having it slip from your fingers.
This product is free from harmful chemicals as they are made with safe components that won't cause your body any harm.
The lids lock perfectly when covered. Though, you are not expected to microwave your foods using the lid as it is plastic.
It is easy to clean so you have nothing much to worry about technicalities in doing that.
Do you want one of these glass dishes for your microwave? Click this link to be taken to the page on Amazon where you can find all you need to know about it and get one for yourself.
Description of this Item:
The Vallo glass food storage container comes in various sizes that give you the perfect option of storing leftovers, meal prep, lunch or other important occasions or events.
The product is safe for dishwasher, microwave, oven and freezer. This product can be easily washed and reused which means you do not need to worry about buying new containers to replace the old ones.
The Vallo food container comes with locking lids which help in keeping the container safe from leakage. The lids make the container safe to use in the dishwasher and it is very easy to open or close. Its 100% BFA makes it very safe to store food without getting scared of harmful chemicals.
This Vallo glass container is also a saving nest because the containers can easily nest inside each other which would safe space in the kitchen which ordinarily could be filled with other cooking utensils.
Feature of this Item:
It comes in 10 Borosilicate glasses and 10 matching lids.
This glass container comes in rectangular and square shapes.
Its weight is 10.93 pounds which is ideal for the perfect kitchen use.
This product comes in 20 pieces which gives you a variety of options to use for different things.
It comes in clear colour to allow you to check your food when you have it in the microwave.
The product is made up of glass that is safe for contact with a heat source.
It comes in different sizes for you to choose from eg 14.58 x 9.78 x 6.38 inches.
It is oven safe up to 750F and also safe to use in the microwave.
This glass dishes can be easily opened or closed with airtight and leakproof lids.
You are guaranteed 100% BFA free and food safe materials.
The Vallo glass food storage is easy to clean anytime and anywhere.
It is made up of quality materials that make it strong and durable enough to last long for you.
The product is freezer- and fridge-safe so you can use it to store your foods for refrigeration.
It is shatter-resistant from counter heights as shown by the manufacturer. But don't go trying it on purpose as it may not always end well, lol.
It is airtight and leak-proof to ensure that your food stays in as long as it can.
With a good nesting design, you can ensure space-saving storage.
It comes with domed lids to fit in an extra bit of foods stored inside.
It is odour-proof and stain proof. This is great as you won't have the smell of food lingering on it even after washing. Plus, it would be a lot easier to wash as it doesn't hold stains.
By clicking this link, you will be taken to the Amazon page where you can see more details about it and get to place your order after going through what others have to say.
Conclusion
There are different food containers made up of different components that are used for storage, preservation or heating our food in the microwave or oven. One of such is the glassware food storage containers which can withstand heat and freezing temperatures.
Do you have any difficulty in making a good choice on the type of glassware food containers that would give you value for money? Trust me, the three (3) products reviewed in this post are durable, affordable, of high quality and can definitely meet your needs.