Crave the delicious, meatiness that is the Subway Italian B.M.T., but don't have the time or inclination to go out and get one? We've got you covered.
We'll walk you through all the components that make this sandwich so mouthwatering and by the time we're done, you may never buy another one from Subway again.
For those of you who may have not tried or heard about this sandwich, we'll take a minute to get you up to speed.
What is the Italian BMT sandwich?
Originally named after an actual New York Subway Transit system, Subway's best-selling Italian B.M.T. sandwich stands for "biggest, meatiest, and tastiest," to all its fans nowadays.
Born in 1975, the Italian B.M.T is still popular today, due, in part, to the three featured types of meat it is made with: ham, salami, and pepperoni. At Subway, the traditional serving style of this sandwich added lettuce, tomato, and cucumber, but as we all know, at Subway you can make it "your way."
Let's dig into the actual ingredients, starting with the bread.
Bread
Many may say, the bread doesn't matter as much in this sandwich, but we beg to differ. The Subway traditional white Italian bun has a firmness to it that adds support to the sandwich without overwhelming the flavors. Of course, at Subway you have your choice of other types of bread, but we prefer the flavor of either the white Italian or the Italian herb and cheese the best.
When choosing a bread at home, we like to stick closely to this profile. You can best duplicate the flavors at home by selecting either French or Cuban bread for your sandwich. Depending on where you live, you may not have Cuban bread readily available, but if you can get it – try it. You won't be sorry. French bread is a good alternative if you do not find Cuban bread, but it's a bit tougher to bite into, so you may experience some ingredient "slippage" as you continue eating.
Meat
The meat, regardless of which brand or type you choose, is traditionally ham, salami, and pepperoni.
Ham
Here's where you can add flair by choosing a Honey Ham, or Smoked Ham. You don't have to use the Black Forest Ham Subway uses, and it will change the flavor profile a bit, but after all, it's your sandwich – go nuts.
For this recipe, we're going with a thinly-sliced deli honey ham. About a quarter-pound of each type of meat per should yield you four good-sized foot-long sandwiches.
Salami
Your basic peppered salami at the deli counter should do well for this, but you can upgrade your sandwich, as we did in this recipe, by choosing the Italian-favored salamis like Genoa or the fattier Sopressata. If you've never tried soppressata, you need to. It tastes like a mix between bacon and ham, and especially if you end up using French bread, you will appreciate the extra creaminess this salami provides.
For those that like a little kick to their sandwich, try a thinly-sliced Chorizo -it's a delicious, albeit spicier option. Originally from Spain and Portugal, Chorizo is another one of those specialty meats you need to try. It is a smoked sausage that has been fermented and cured, so you can eat it as is.
Pepperoni
Pepperoni is the last meat used, and in this case, sticking to the traditional recipe was a no-brainer. If you want to switch it up, check your deli case for other salami options. Since the pepperoni is just a type of salami, you really can pair up two of your favorite salamis with the ham and enjoy.
Cheese
Now to the cheese. Again, you can liven up things a little by adding Pepper Jack Cheese, or Muenster, since they are a bit milder and will add a subtle flavor without detracting. But when it comes to the yellow cheeses like Cheddar and American, just save those choices for your other sandwiches. They tend to change the flavor profile a little too much, and with this sandwich, you want the Italian flavors to be the most apparent.
For this recipe, we use a traditional Provolone, but other mild, white cheeses like Mozzarella would work just as well. Try and stay away from the smoked provolone in this, as the smokiness adds a different flavor profile that detracts from the sandwich.
Veg
One of the final considerations is for the vegetable toppings. Many like to load up on this area since it adds to the freshness and crunch factor of the sandwich, but we recommend selecting toppings that complement the Italian nature of the dish.
Subway serves their traditional sandwich with lettuce, tomato, onion, and cucumber, and this recipe is similar, for the most part.
Our vegetable toppings include the traditional toppings of tomato, lettuce, onion, and green bell pepper, with the added zing of a few banana peppers scattered around. For us, this was the best flavor profile alongside the meat choices.
Finishing Touhes
At Subway, you have options of finishing touches, and at home, there are even more choices. We like to, once again, stick to the Italian spices to complement this sandwich. Our recipe calls for the addition of oregano, salt, pepper, olive oil, and red wine vinegar.
The olive oil and vinegar form a sort of dressing over the vegetables that are delicious and just a bit tangy.
Now let's get to how all of these ingredients tie together.
Putting It All Together
To make the Italian B.M.T. at home, you need to first gather your ingredients and prepare them. Also known as "mise en place" and pronounced (MEEZ ahn plahs), preparing your ingredients for the sandwich makes the assembly much easier.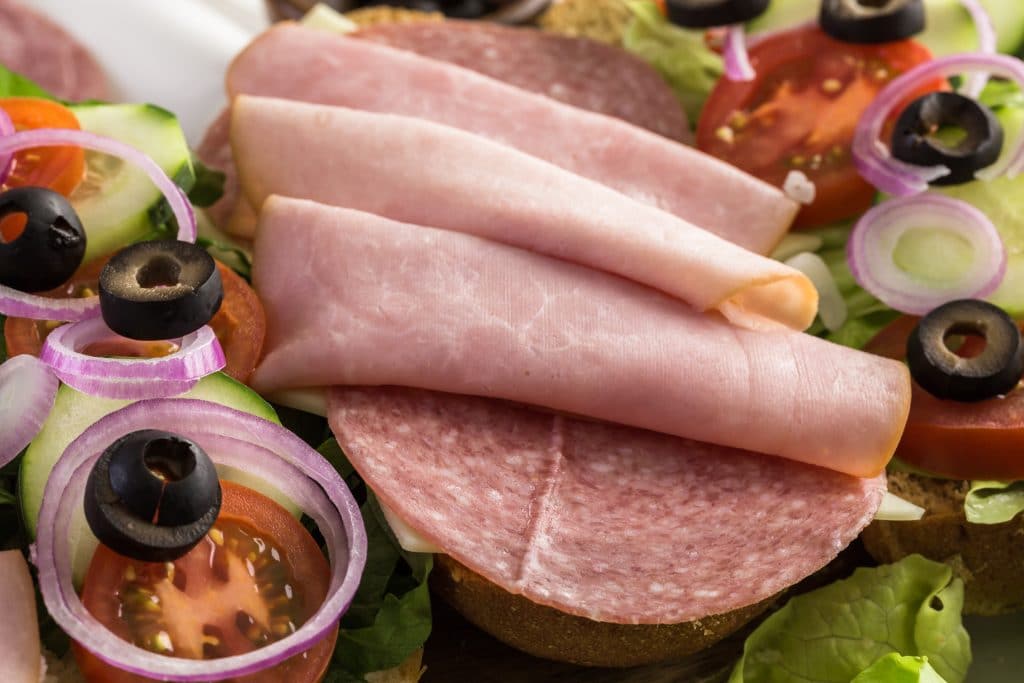 Ingredients
The ingredients we are using for this recipe include:
Bread:
2 Lg. loaves of Cuban bread, each cut in ½ to make 4 sandwiches
Meat/Cheese:
¼ lb. thinly-sliced deli honey ham
¼ lb. deli-sliced soppressata salami
¼ lb. deli-sliced pepperoni
½ lb. deli-sliced provolone cheese
Dressing:
¼ C Mayo
¼ C Dijon Mustard
Olive Oil
Red Wine Vinegar
Veg:
1 Lg. or 2/3 plum tomatoes
½ Lg. red onion, sliced
½ Med. green pepper, sliced thin
¼ head iceberg lettuce shaved thin
3-4 Lg. Banana Peppers, sliced
Optional: Black Olives
Assembly
First cut the Cuban bread loaves into 4 equally-portioned sandwiches, and then cut each loaf about two-thirds of the way through the middle. Once cut, place each on its crease and gently push the middle down to form a sort of sandwich "canoe." This method is the closest to replicating Subway's version, that we've found. Now it's time to layer, starting with the sauce.
Next, create the Dijon-aise, by combining the Mayo and the Dijon mustard in a separate bowl. Once combined well, smear on the sides of the sandwich rolls. How much you use is up to you, and you can also fiddle with the ratios to make it creamier (add more mayo), or tangier (add more Dijon).
We like to add the cheese next, between the bread and the first layer of meat, so add a layer of Provolone to each sandwich. Then begin the base of the sandwich by piling the meat into the center of the "canoed" bread. For each sandwich, divide the sliced deli meat and cheese into four equal parts. Then, in order, layer the pepperoni next, followed by soppressata and then honey ham. It's a good idea to fold or drape the meat in bundles to create a better meat-to-veg ratio.
Next, it's the veg. We like to first add onion and green pepper next to the meat, and build it out to add tomatoes and lettuce, followed by a sprinkling of banana peppers. How much you add depends on your heat tolerance, but keep in mind that adding too many can throw off the balance of flavors.
Finally, we like to add Oregano, salt, and pepper to the top of the sandwich, right on top of the veg. The last finishing touch is the drizzle of olive oil and red wine vinegar. Since this is like the cherry on the top of a sundae, invest a little money in a good extra virgin olive oil and red wine vinegar. Cheaper versions of these dressings will add bitterness to the sandwiches.
By the time you're done assembling, you should have a pretty substantial sandwich that even stands up on its own.
So, there you have it. This is a homemade Italian B.M.T. that will have you questioning why you didn't make one sooner. Grab a bag of your favorite chips and enjoy – we know you will.