A fresh and delicious breakfast marks the start of a beautiful new day.
Whether you choose eggs or pancakes for your main course, adding some sides to your breakfast will make you feel like a gourmet chef. From pastries to proteins, there are so many delectable choices when it comes to breakfast sides.
To help you level up your next breakfast or brunch, we've rounded up a definitive list of sides that will have your mouth watering in no time.
Pastries
1. Croissants
Buttery and oh-so-delicious, this flaky pastry is a breakfast staple. Made with layers of butter and pastry dough, this savory French classic is loved by all! Croissants don't require any special ingredients, but getting those perfectly flaky layers takes some patience and skill.
Craving a little sweetness in the morning? Try a pain au chocolat – the chocolate-filled sister to the croissant.
Pairs well with: Croissants are incredibly versatile! Enjoy as a side with a yogurt parfait or even some eggs. If you're looking for a lighter breakfast, enjoy your croissant like the French – with a little bit of fruit jam and an espresso!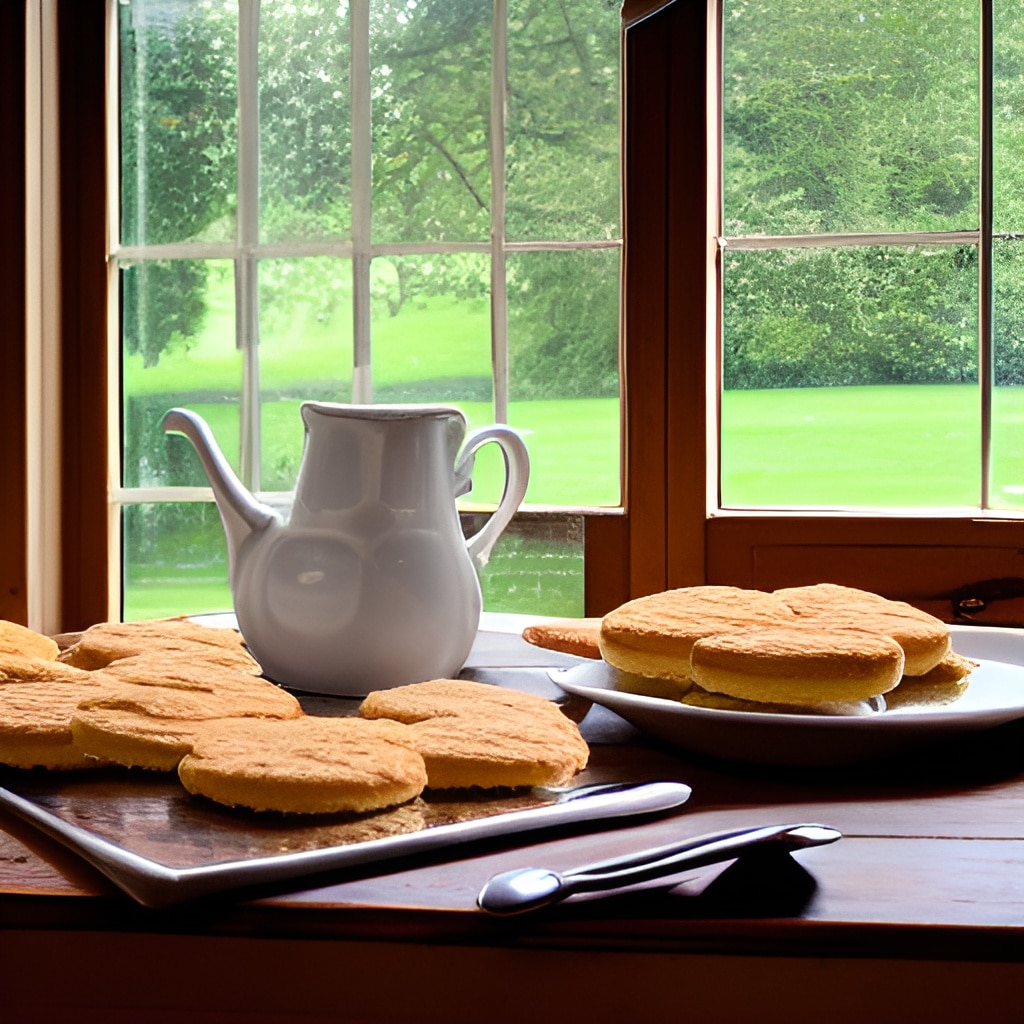 2. Biscuits
Sweet or savory, biscuits are certainly one of the most versatile breakfast foods.
Made with simple household ingredients butter, flour, milk, and baking powder, you can have homemade biscuits on the table in less than half an hour! (Just make sure to keep the butter cold!)
Pairs well with: Enjoy your biscuit by itself or with a little bit of butter and jam. You can also serve biscuits with gravy. For a delicious breakfast on the go, make a biscuit breakfast sandwich. Simply cut the biscuit in half, then layer eggs and bacon or ham inside.
3. Scones
They might look similar, but don't confuse a scone for a biscuit! Hailing from the UK, scones are a great breakfast side that are slightly crumblier and a tad denser than biscuits. Outside of breakfast, you'll often find scones being enjoyed at tea time!
Unlike American biscuits, scones have a key ingredient – eggs.
Pairs well with: The classic scone pairing is clotted cream or jams and jellies. But you'll find they make a lovely vessel for most breakfast food! From eggs to meats and veggies, scones will pair well with almost anything.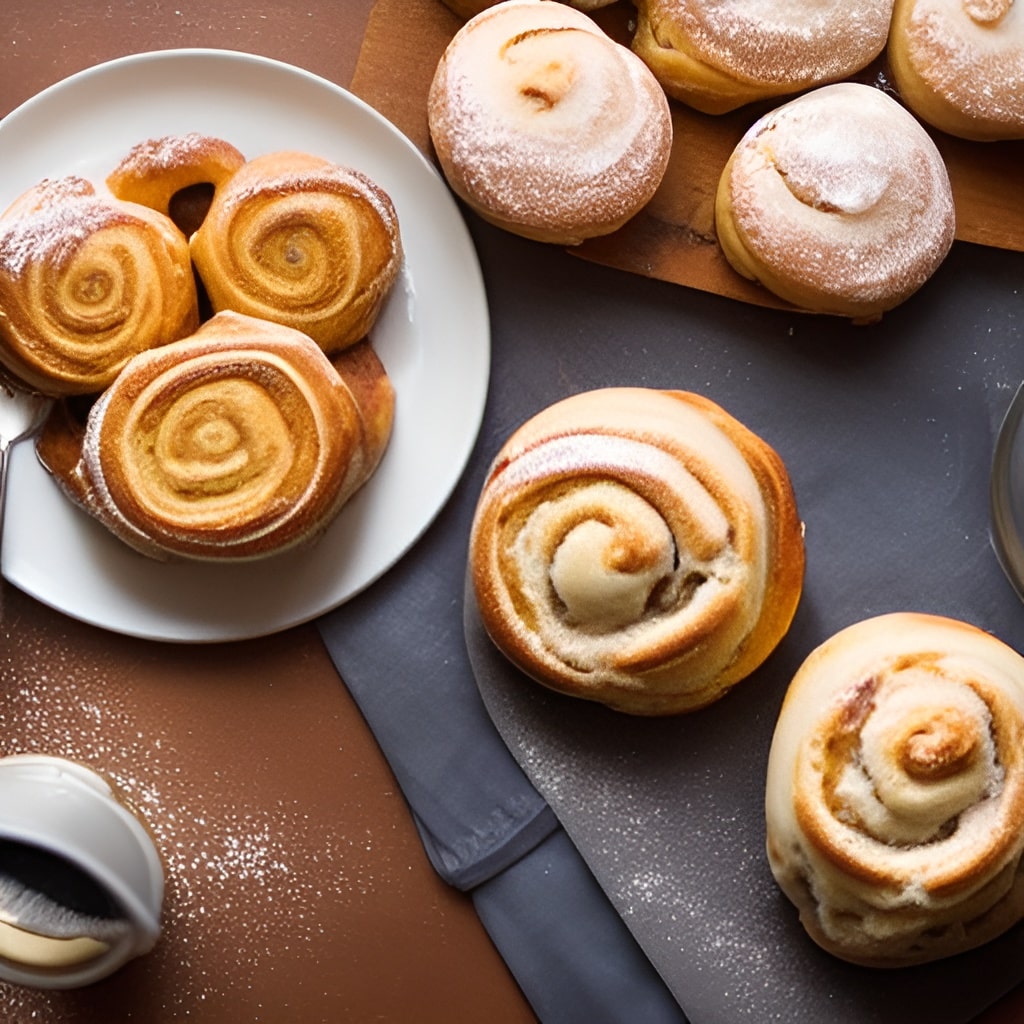 4. Cinnamon Rolls
Few things that smell as sweet as freshly baked cinnamon rolls. Perfect for Sunday brunch, cinnamon rolls are a breakfast side that are as decadent as they are delicious.
With cinnamon and sugar lovingly rolled into a leavened dough, cinnamon rolls are like sweet bread. Drizzle cream cheese icing on top for a tangy and creamy finish!
Pairs well with: Cinnamon rolls can be rich, so pair with a yogurt parfait or fruit for a delicious and balanced breakfast
5. Sticky Sweet Buns
From caramel to dates, the variety of sticky sweet buns are delicious. Similar to cinnamon rolls, sticky buns are a scrumptious breakfast treat.
Instead of icing, most sweet buns are topped with caramel and nuts for some extra crunch
Pairs well with: Like cinnamon rolls, sticky sweet buns pair well with lighter fare, like yogurt and fresh fruit, so the buns can be the star of the show.
6. Muffins
Just like little cakes without the icing, you can't go wrong with muffins in the morning. Fluffy and moist muffins are perfect for breakfast on the go or as a side to a full breakfast.
Muffins use simple ingredients everyone has at home, including flour, sugar, milk, baking powder, and eggs. Then just add whatever you like! From
For a twist, try swapping out your additions for a savory muffin instead.
Pairs well with: A continental breakfast spread is the perfect companion for your muffins. But the beauty of a muffin is that it's still a rockstar on its own!
7. Crepes
A classic French street food turned breakfast side, crepes are a delicious way to upgrade your breakfast or brunch.
All you need is a simple batter of flour, eggs, milk, and butter, and a griddle (or crepe maker.) Just pour into a thin layer, cook through, and enjoy!
Pairs well with: Crepes can be used as a vessel for almost anything you can imagine! For a savory breakfast, stuff your crepe with ham and cheese. If you have a sweet tooth, try a chocolate-hazelnut spread with some strawberries.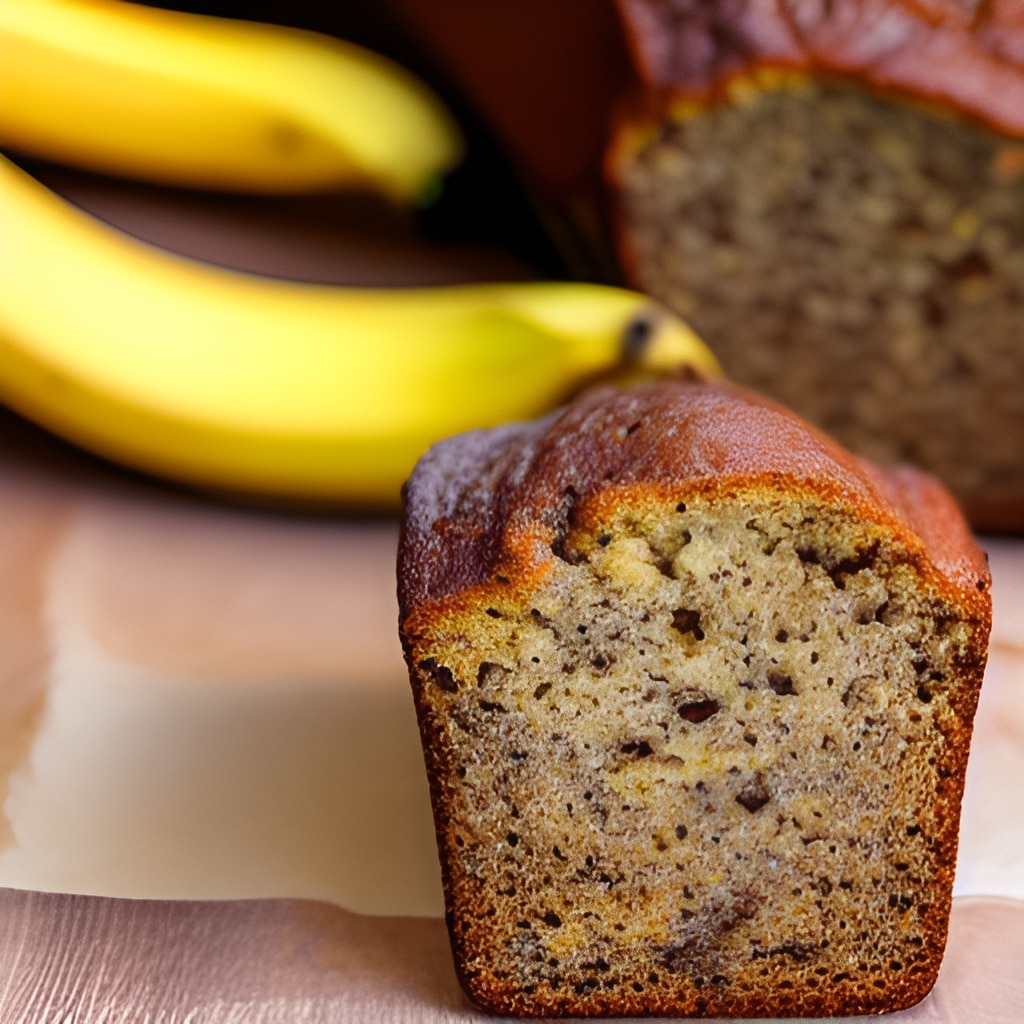 8. Banana Bread
The perfect way to use up old bananas, this moist and delicious loaf will look striking on your breakfast table!
Typically made with simple pantry ingredients, you'll find flour, butter, eggs, and baking powder in most banana bread recipes. The most important ingredient? Very ripe (or overripe) bananas.

You might also find unique banana bread recipes that include special ingredients like coconut flakes or chocolate chips!
Pairs well with: Serve with fruits, yogurt, and coffee for a sweet breakfast offering. Or enjoy a slice by itself with a dollop of salted butter.
9. Bagels
Bagels got their start in Jewish communities across Eastern Europe, but now you'll find this staple on breakfast tables across North America.
Surprisingly, there are different types of bagels! In New York, you'll find a fluffy and doughy bagel. Head north to Montreal and you'll find bagels that are denser, chewier, and slightly sweeter!
There are many ways to make bagels but the ingredients are relatively simple. You'll typically find them made with a leavened dough of water, flour, sugar, yeast, and salt.
Pairs well with: Load your bagel with lox and cream cheese for an old-school New York City classic.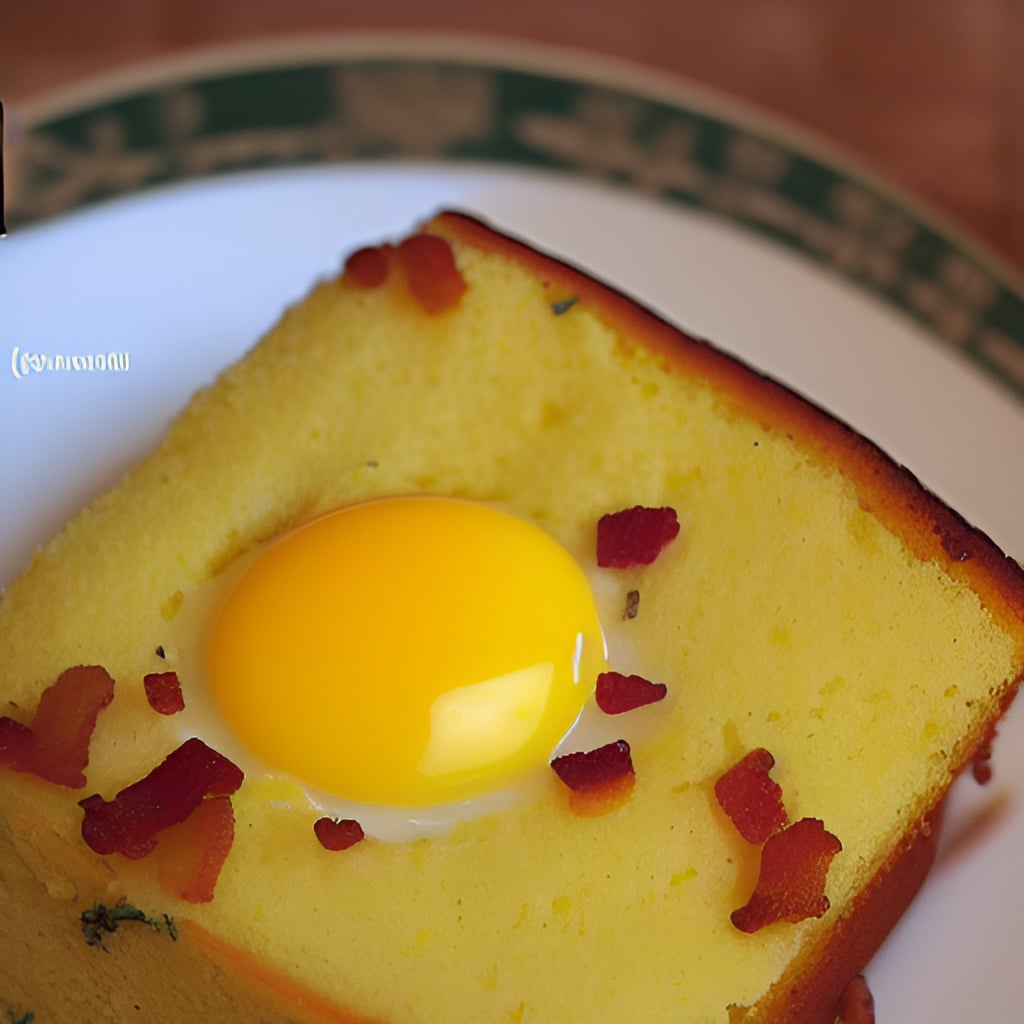 10. Cornbread
Cornbread has a unique flavor that is both savory and sweet! While more traditionally paired with BBQ and ribs, cornbread pairs beautifully with breakfast.
As the name suggests, cornbread is made with cornmeal! Like most other breads, you'll also find flour, raising agents (baking powder and baking soda), salt, and butter.
To give your cornbread some extra flair, try adding in toppings like blueberries or even jalapenos (for an extra kick!)
Pairs well with: Add a slice of cornbread to your classic eggs and bacon breakfast.
Potatoes
11. Home Fries
Home fries are the perfect excuse to eat fries for breakfast.
Unlike classic fries, home fries aren't sliced into strips. Potatoes are diced and then baked or fried until nice and crispy to create this ultimate breakfast side!
Pairs well with: Any classic savory American breakfast food will feel right at home next to home fries. You can also serve home fries with gravy!
12. Hash Browns
Popular in both the UK and North America, hash browns are the perfect side dish for any breakfast.
Typically crispy on the outside and soft on the inside. To get the perfect hash brown, potatoes are finely chopped or shredded and packed into a patty. Then that patty is either baked or fried until golden brown and crispy.
Pairs well with: Eggs and bacon are delicious with hash browns. Use your hash brown to soak up the yolk in a perfectly medium egg!
13. Hash Brown Casserole
Hash brown casserole is exactly what it sounds like! It's also the ultimate comfort breakfast food.
Shredded or diced potatoes are packed into a casserole dish with cheese, sour cream, and other savory additions. Hash brown casserole is often topped with another breakfast staple, cornflakes, for an extra crunch.
Pairs well with: Hash brown casserole pairs well with most breakfast meats. In classic casserole fashion, feel free to toss some ham or bacon directly into the casserole to save on some dishes!
14. Loaded potatoes
Not just for steak dinners anymore. You can enjoy loaded potatoes as a side for your next brunch or morning breakfast!


To create the ultimate loaded breakfast potatoes, bake potatoes until fork tender. Slice in half and scoop out some of the potato flesh inside. Then stuff with your favorite breakfast foods like scrambled eggs, ham, and roasted veggies.
Pairs well with: Serve your loaded potatoes with other breakfast classics like eggs or bacon.
15. Skillet potatoes
Similar to home fries, skillet potatoes (or potato hash) feature diced potatoes crisped up in… you guessed it, a skillet!
Often tossed with veggies like onions, peppers, and mushrooms, skillet potatoes are packed with flavor.
Pairs well with: Top your skillet potatoes with a medium egg and let the potatoes soak up all that delicious yolk.
16. Potato pancakes
Shredded potatoes are packed together into a patty to make mouthwatering potato pancakes. Many cultures have their version of the potato pancake. You might hear these beautiful potato patties called latkes, draniki, or boxties!
Potato pancakes are delicious and easy to make. Typically, potatoes are shredded and then folded with eggs and flour to help form the pancake. Then just fry your pancake on both sides in hot oil!
Pairs well with: Add some bacon and eggs to your potato pancakes for a breakfast trifecta!
17. Sweet potato hash
Sweet potatoes make a lovely swap for potatoes at breakfast. Sweet potatoes are packed with vitamins and offer just as much flavor as a regular potato.
Dice your potatoes, toss in oil, and bake until crispy on the outside. Then mix in vegetables like peppers and onions. Serve with a dollop of sour cream and salsa on top!
Pairs well with: Sweet potato hash is delicious with scrambled eggs! Or serve with a fried egg on top for a fancy, restaurant-quality breakfast.
Fruits and Veggies
18. Fruit salad
Start your day with a burst of color. You can't go wrong with a refreshing fruit salad for breakfast or brunch! Mix and match chunks of your favorite fruits and serve in a bowl or individual cups.
To keep fruits fresh before serving, lightly toss in lemon or lime juice to slow the browning process.
Pairs well with: Fruit salad is the perfect breakfast side for pancakes, waffles, or even French toast! For a lighter breakfast, pair with granola and yogurt.
19. Grilled tomatoes
Simple and delicious, grilled tomatoes are a great way to get your veggies in at breakfast.

To make grilled tomatoes for breakfast, simply slice your tomatoes and pan-fry (or grill) for 2-3 minutes on each side.
Pairs well with: Serve with eggs, baked beans, toast, and sausage to create a traditional English breakfast.
20. Baked apples
Apples are delicious when fresh but even more delicious when baked. This Southern dish is perfect for a sweet breakfast spread.
Even though baked apples hold a ton of flavor, they're incredibly simple to make. Just bake apple slices, sugar, butter, and cinnamon until slightly caramelized.

Not feeling apples? Swap out the apples for peaches instead!
Pairs well with: Enjoy your baked apples on oatmeal, toast, or even as a topping on your pancakes!
21. Roasted asparagus
Asparagus is the perfect healthy breakfast side dish! You'll find an abundance of asparagus in the spring months, making it the perfect addition to your breakfast spread.
Keep it simple by roasting your asparagus in salt, pepper, and a bit of olive oil. Squeeze over a lemon wedge for good measure!
Pairs well with: Try serving asparagus with a quiche or omelet for an elevated breakfast or brunch!
22. Grits
Similar to oatmeal, grits are a porridge made from cornmeal. You'll often find grits served for breakfast (and other meals) in the Southern states of the US.
Like most porridges, grits can be made sweet or savory. For simple sweet grits, flavor with syrup or brown sugar. Or try cheesy grits with ham for all the classic breakfast flavors in a bowl.
Pairs well with: Sweet grits can be served with fruits or pastries. Savory grits pair well with breakfast meats like bacon or ham. Grits are also delicious for breakfast on their own.
Protein
23. Bacon
If you ask someone to describe their favorite breakfast meat, they'll likely say bacon! There's just something magical about perfectly crisped bacon for breakfast. The smoky flavor is simply unmatched.
Looking for some bacon variety? Try maple-flavored bacon for a sweet and salty combo. Or try turkey bacon for a pork alternative.
Pairs well with: Serve your bacon with eggs or any other main breakfast course! (Or just eat it right out of the pan – we won't tell!)
24. Sausage
Found in both links and patties, breakfast sausages are bursting with flavor. Ground pork is seasoned with spices like sage and thyme, to create the ultimate breakfast side.
Enjoy them as a breakfast side or pop your sausages into a breakfast sandwich.
Pairs well with: Create a balanced breakfast by serving sausage with eggs, roasted vegetables, and some toast!
25. Ham
Slightly leaner than sausage or bacon, ham is a great alternative for a breakfast protein. You can toss your ham into an omelet or serve slices individually on the side!

Pairs well with: Pair your ham with eggs and potatoes for a well-rounded breakfast. If you're craving a bit of sweetness, add a drizzle of maple syrup to your slice of ham for that perfect sweet and salty umami.
26. Peameal Bacon
I've you've ever ordered peameal bacon (or Canadian bacon) and had something show up that's not quite bacon, you're probably not alone!

Peameal bacon is probably more like ham than bacon. It's pork that's wet-cured and rolled in cornmeal. And if the name "Canadian bacon" didn't give it away, you'll commonly find this breakfast meat in Canada!

Pairs well with: Serve peameal bacon with anything you'd typically eat with ham or normal bacon. Or upgrade your eggs benedict and serve with poached eggs and a hollandaise sauce.
27. Greek yogurt
Yogurt is a healthy and nutritious choice to kick-start your day. Greek yogurt in particular is a fantastic source of protein, helping keep you full longer! Available in a wide variety of flavors, there's yogurt for everyone.
Greek yogurt is very similar to regular yogurt, except that it's been strained! This is how it gets its thick and creamy consistency
Pairs well with: Serve with fruits and granola to create a breakfast yogurt parfait. Yogurt also makes a lovely side for breakfast foods like pancakes, waffles, or french toast!
28. Cottage cheese
Cottage cheese has risen in popularity as a breakfast side due to the high level of protein. The slightly tangy but mild flavor makes it a lovely and versatile breakfast choice!

Cottage cheese is made from drained cheese curds which gives it that creamy texture.
Pairs well with: Serve with fruits, like you would yogurt, or put it on toast!
29. Baked beans
You might also know baked beans as a side for your ribs. But did you know they are a classic breakfast food?
Typically made with white beans, they're steamed or baked in a tomato-based sauce.
Pairs well with: Enjoy your baked beans with a full English breakfast of sausage, eggs, tomatoes, and toast. For a convenient breakfast, just serve your beans on toast!
30. Hard-boiled eggs
You just can't go wrong with eggs at breakfast. But eggs don't always have to be the star of the show. Hard-boiled eggs actually make the perfect breakfast side.
Here's how you can make the perfect hard-boiled egg.
Submerge your eggs with cold water in a pot
Bring the water to a rolling boil and then immediately turn off your heat
Cover and leave your eggs sitting in the hot water on the stove for 10 minutes.
Run under cold water and enjoy!
Pairs well with: Pair your hard-boiled eggs with any breakfast meat for a savory, protein-filled breakfast. You can also enjoy your hard-boiled eggs on toast or in savory oatmeal!
Around the world
31. Donut sticks
Fried donut sticks can be found on almost every breakfast table in China. They're light and airy but also crispy and chewy.
Similar to American donuts, they're made of dough leavened with yeast. But unlike classic donut holes, these are savory.
Pairs well with: These fried donut sticks are delicious when dipped in congee (Asian rice porridge).
32. Bourekas
These traditional Middle Eastern and Balkan hand pies are just bursting with flavor. Bourekas can be enjoyed for a quick breakfast or as a snack at any time of day!
Flaky dough envelopes the filling to create a warm and rich bite. You can find bourekas filled with anything from cheese to onions

Pairs well with: Serve beside scrambled eggs or alongside Shakshuka. (A Middle Eastern dish of eggs poached in tomato sauce.)
33. Rice
Rice is a staple in Asian cuisine. There's no surprise it makes an appearance on the breakfast table in many cultures.
You can fry it up with eggs to create a breakfast fried rice or serve it on the side with some eggs. You can also boil it into a soft porridge – also known as congee.
Pairs well with: In Hawaii, a classic breakfast is loco moco. A ground beef patty is served on a bed of rice with fried eggs and gravy!
34. Pretzels
Salty and delicious, soft pretzels are a special breakfast in Germany.
Pretzels are made with leavened dough. Before baking, they're given a lye wash to give it that classic dark brown sheen.
Pairs well with: Serve with german sausage and mustard for a classic German breakfast. If you're feeling adventurous or having a late breakfast, a pint of beer might even make its way to the table!
35. Dosa
Originating in India, this slightly crispy street food is commonly served for breakfast. While it might look similar to a crepe, dosa batter is typically made from rice and lentils.
Dosa is so versatile, you can find dosa on the dining table at almost any meal of the day.
Pairs well with: Dosa is commonly served with a classic Indian chutney or sambar, but you can serve it with almost anything! For breakfast try a potato masala dosa or egg dosa.
36. Cheese and charcuterie
Charcuterie boards are often seen as an afternoon snack. But you'll find cheese, charcuterie, and other cold cuts served for breakfast in many Eastern European countries.
Pairs well with: Cold cuts are commonly served for breakfast with cucumbers, tomatoes, eggs, and coffee!
37. Arepas
A staple in many South American countries, Arepas are little crispy cakes made of cornmeal. They look like little patties and are similar to pancakes.
You'll find arepas being served at all meals of the day in countries like Venezuela and Columbia.
Pairs well with: Serve arepas on the side with huevos (eggs) for breakfast or dips like guacamole and salsa.
38. Black pudding

Originating in Great Britain, you might be surprised to learn that black pudding isn't really a pudding at all! It's more of a sausage and is commonly served for breakfast.
Black pudding is typically made from oats (or other grains) spices, herbs, and blood. (You read that right!). It might sound strange but it tastes similar to most sausages! It can be baked, fried, or even eaten cold.
Pairs well with: Black pudding is best served with a full traditional English breakfast of eggs, baked beans, tomatoes, bacon, sausage, and toast.