Chicken kiev is an amazing dish that comes from Eastern Europe (Ukraine).
It's similar to chicken cordon bleu, except it's filled with herbs instead of smoked beef and mozzarella. The perfectly-crispy exterior pairs amazingly with the rich interior sounds so delicious.
But, how can you serve it for dinner? What goes with chicken kiev?
So, check out these ideas below and pick your favorite one to accompany your chicken kiev tonight!
Mashed Potato
Spaghetti Aglio e Olio
Chicken Kiev comes from Eastern Europe while Spaghetti Aglio e Olio comes from Southern Europe (Italy). Serve them together on a table and you get a pack of delicious dinner combo!
Aglio e olio sauce is one of the easiest pasta sauce you can make at home. Aglio e olio literally means "Garlic and oil" so basically you just need to cook the boiled spaghetti together with some garlic and olive oil and then add some basic seasoning like salt and pepper. If you love some heat, don't forget to add some red pepper flakes.
Risotto
Risotto is another dish that comes from Italian. And yes, risotto can pair so well with the Ukrainian Chicken Kiev.
HOW TO MAKE RISOTTO:
Prepare a vegetable stock in a saucepan, bring it to boil and then simmer
Add some lemon juice
Using a skillet, melt butter along with some drip of olive oil
Add chopped onion to the skillet and cook until it softens
Add minced garlic to the skillet
Add rice to the skillet, stir
Keep stirring for 5 minutes
Remove the saucepan from the heat, add the vegetable stock to the skillet gradually (not at once)
Keep stirring until the liquid in the skillet is almost running out and add more vegetable stock. Repeat this step until the rice is cooked well.
Turn off the heat and add grated cheese, salt, and pepper.
Baked or Roast Asparagus
You can either bake or roast the asparagus. If you need more color on your plate, you can also add some tomatoes along with the asparagus.
Potato Wedges
Dauphinoise Potato / Potato Au Gratin
Dauphinoise potato and potato au gratin look similar at the first sight. But they're actually different.
The regular gratin potatoes are made using pre-cooked sliced potatoes while dauphinoise potato uses raw potato.
Either one you love, they both taste delicious and they can pair well with chicken kiev.
French Fries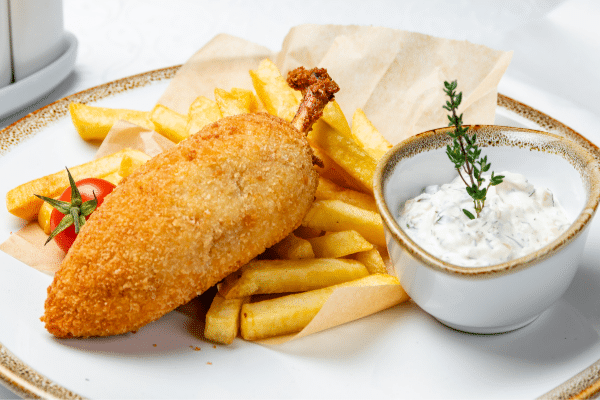 So, basically, chicken kiev pairs so well with potatoes. And there are so many different kinds of potato dishes. The simplest one? French fries!
Creamy Polenta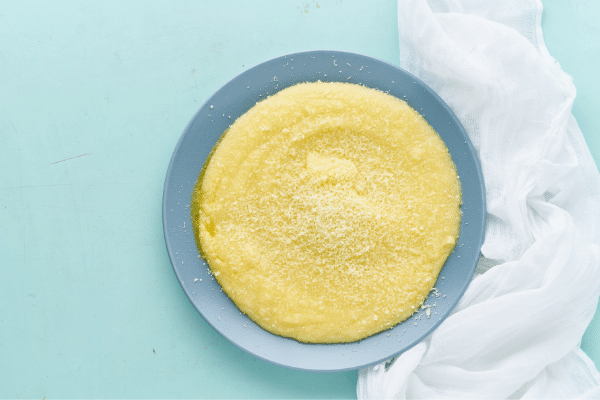 Chicken kiev pairs so well with something creamy, especially if it's made of starch. If you love polenta, consider making a creamy one and pair it with your chicken kiev.
Boiled Green Peas
Greek Salad
Couscous Salad
Potato Salad
Roasted Carrot
Parmesan Or Garlic Roasted Broccoli
Cauliflower Rice
HOW TO MAKE CAULIFLOWER RICE:
Wash dry cauliflower well
Remove the greens
Cut the cauliflower into pieces
Transfer to a clean towel and press them well to remove excess water [you don't want a soggy cauliflower rice!]
Convert the small pieces into "rice" by using a food processor
Sautee the "rice" on a skillet with a few drips of olive oil [make sure to put the lid on]
After 5 minutes, add seasoning and stir well
Remove from the heat and serve
What To Serve With Chicken Kiev? 15 Side Dishes Ideas!
IDEAS
mashed potato

spaghetti aglio e olio

risotto

baked/roasted asparagus

dauphiniose potato/potato au gratin

potato wedges

french fries

creamy polenta

boiled green peas

greek salad

couscous salad

potato salad

roasted carrot

parmesan or garlic roasted broccoli

cauliflower rice
DIRECTIONS
Pick your favorite side dish idea
Prepare the dish
Serve it with chicken kiev