If you have been in love with Asian food for decades, you probably are too familiar with classic fried rice. And if you're new to the wonderful world of Asian cuisines, chicken fried rice is basically just made by stir-frying (cooked) rice together with little pieces of chicken (chopped, cubed, or shredded) sometimes also with other veggies or herbs, and of course, seasoning.
Now, what can you serve with chicken fried rice? Check out this simple list of ideas and pick your favorite one(s)!
Rotisserie Chicken
Classic and delicious. You can combine chicken fried rice with this protein-packed dish for a budget-friendly family dinner!
Chicken Skewers
In some parts of Southeast Asia, there is an amazing Traditional dish called chicken satay which is basically chunks of grilled chicken served in skewers and topped with sweet peanut sauce. But if you want to pair the real chicken satay with fried rice, it just feels too much to serve with the sweet sauce too. So, you can make a simple chicken skewer instead.
HOW TO MAKE A SIMPLE CHICKEN SKEWER:
Cut the chicken breast into bite-sized chunks
Marinate them with oil, honey, garlic powder, salt, and pepper.
Arrange them in skewers
Grill until cooked well
Serve
Fried Egg
Fried rice and fried egg are easy dishes that you can prepare pretty quickly. They taste so good together. You should not miss this nice combo when you're having breakfast in South East Asia.
Yes, it's pretty heavy for a morning. But they also make a tasty dinner. Psst… they're budget-friendly too!!
omelette
Fried rice or nasi goreng is a popular breakfast dish in some parts of South East Asia. And guess what, you can serve it with another breakfast food e.g. omelet!
Kerupuk
As if this post is not Asian enough… you should try to eat chicken fried rice with kerupuk!!
What is kerupuk??
Alright, so it's a kind of crackers that can be made of different things. But for chicken fried rice, it pairs well with kerupuk udang (prawn crackers). You can get it cheaply [HERE].
Deep fry it very quickly (2-3 pieces per batch, do not overcrowd it) on medium heat and watch it turn into something larger. The texture might be hard when uncooked but it's crispy when you cook it on the right heat.
1 portion of chicken fried rice can be paired with 1 large kerupuk. However, if in any case, you got small crackers you can serve 5-10 pieces of them for a single serving of fried rice. This means it's budget-friendly!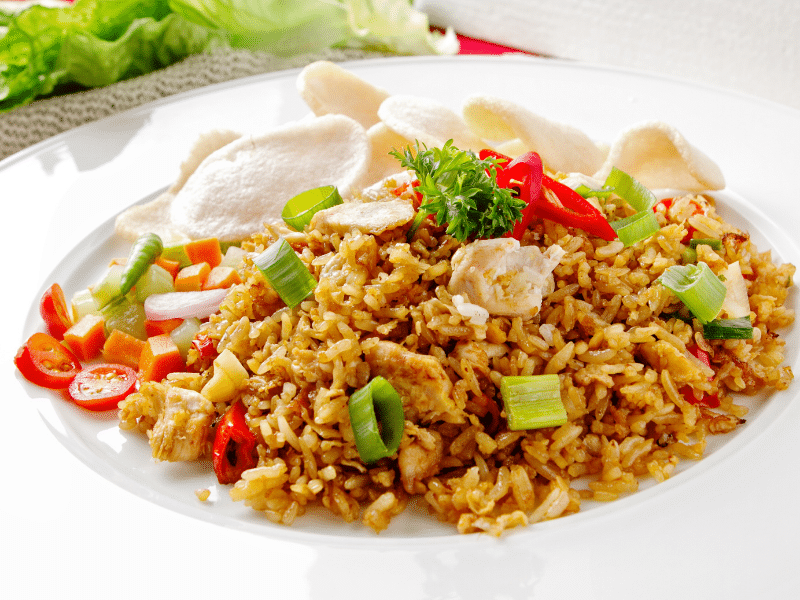 By the way, besides serving it with chicken fried rice, you can also fry it and serve it as a crispy treat! It just tastes soo good!!
What to Serve With Chicken Fried Rice? 5 Ideas To Try!
IDEAS
rotisserie chicken

chicken skewer

fried egg

omelet

kerupuk
DIRECTIONS
Pick 1, 2, or 3 of your favorite ideas from the list
Prepare the ingredients and cook them
Serve it with chicken fried rice!