The history of loaded fries is hard to pin down. One possibility is that the introduction of Cheez Whiz in England in 1953 inspired the creation of Philly cheese steaks and subsequently cheese fries. Another version attributes its creation to one of two people who made an order of cheese fries at a Dairy Queen.
What's important, though, is that there are almost an endless number of mouthwatering loaded fries recipes that you can enjoy. This delicious guide should be your go-to for enjoying all that loaded fries has to offer (and they have a lot of flavor to offer).
Take a look at the basics of making your own loaded fry dishes, and then become inspired by all the variations you can make at home — the classics, next level recipes, and vegan and plant-based options.
The Fundamentals of Loaded Fries
In order to dive into the endless possibilities of the loaded fries universe, it's important to get a clear grasp of the basics.
It may seem obvious that the base of the dish is fries, case closed. However, there's actually a lot to consider when it comes to the type of fry used and how it's prepared. Yes, things get very scientific (using a very loose definition of science here).
Type of Fry Used
Having the right length and thickness of fry for your toppings will make or break your eating experience of the dish as a finger food. These are the top considerations for fries used in loaded fries:
Thinner, lengthier fries are ideal for lighter and more granule toppings (think melted cheese, spices, finely ground toppings).
Examples: standard cut fries, shoestring fries, matchstick fries, Belgian fries, sweet potato fries
Shorter, thicker cut fries work well when you're really loading on the toppings, especially if those toppings are thick and have a lot of moisture (chili comes to mind here).
Examples: steak fries, potato wedges, British style "chips," crinkle cut fries, sweet potato wedges, zucchini fries
Beyond the more common types of fries listed above, there are several non-traditional styles that only the bravest of loaded fry chefs use. Successfully pairing these unique fry shapes with toppings takes precise consideration of scoopability, sogginess, and flavor absorption.
Examples: curly fries, waffle fries, tater tots, cottage fries
Type of Toppings Used
Loaded fry toppings may seem straightforward. Just throw whatever you want on there, right? While you can certainly take that approach, there's a lot more consideration that goes into creating the best loaded fry recipes in the world.
Type of Cheese: Shredded cheeses and cheese sauce are the most commonly used types of cheese for loaded fries. Still, the quantity and kind of cheese used matters a lot. Melted cheeses may become too thick when they cool down, creating an unpleasant texture and making it difficult to pull the fries apart. Too much hot cheese sauce can drown the fries and make them soggy.
Quantity of Toppings: Many assume that "more is better" when it comes to topping your loaded fries. Not the case. Too many toppings can weigh down the fries and make it nearly impossible to scoop them up. If you have a bunch of wet toppings — like cheese sauce, chili, and sour cream — then you're going to have a bunch of soggy fries as well. Balance over quantity.
Flavors and Textures: One of the things that makes loaded fries great is that the fries become a palette for an array of flavors and textures to all come together in one dish, in one bite. Considering how the texture of the type of fry goes with the type of cheese and other toppings is crucial in creating a loaded fries work of art.
Layers: Great nachos achieve the proper layering. The same goes for loaded fries. The construction of any type of loaded fry dish needs to be aware of how the toppings are layered and make sure that they are spread evenly throughout the dish.
Eatability: This point goes along with the consideration of the quantity of toppings. Ideally, loaded fries are meant to be eaten by hand. However, there comes a point of no return with toppings when there are too many of them and/or they don't adhere to the fries well enough to make eating them by hand possible or practical.
Types of Loaded Fries: Classics, Next Level, Plant-Based and Vegan
While loaded fries may have had a simple origin story as cheese fries, they're certainly come a long way since. Of course, the timeless classics like chile cheese fries and nacho fries will always bring a smile to everyone's faces. Recipes have gone way beyond that, though, with "next level" takes on loaded fries as well as some really satisfying vegan and plant-based versions.
The Classics
Why mess with a classic? If you're diving into the world of loaded fries, then you need to make sure that you start with the classics. And if you're a loaded fries connoisseur, then you have an undeniable, special appreciation for the classics that makes you always go back to them.
Bacon Cheese Fries
On one fateful day in history, a genius decided to simply put cheese and bacon on an order of fries. While loaded fries have evolved significantly since then, sometimes you just crave the simplicity of a classic loaded fries recipe. The ratio of ease of making it to satisfaction is quite high.
Learn how to make these Bacon Cheese Fries here.
Loaded Pub Fries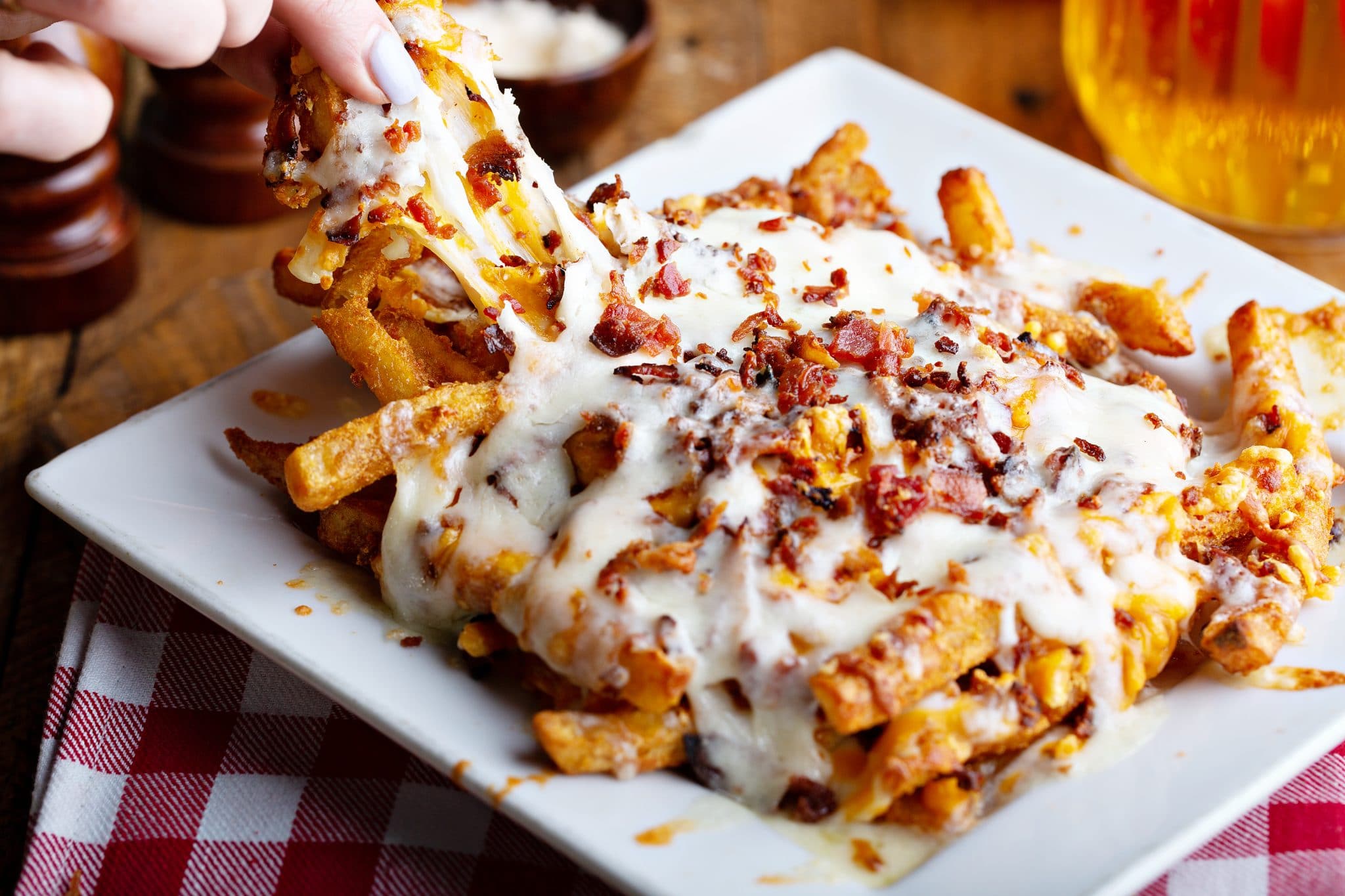 Bring the pub right into your home (just the food, not the drunken crowd) with a delicious recipe for loaded pub fries. Loaded pub fries add just a little more to your classic bacon cheese fries: pub cheese or sour cream. The result is an even creamier, more savory side of loaded fries. That's also why this dish typically calls for potato wedges as the base.
Learn how to make these Loaded Pub Fries here.
Bacon Chili Cheese Fries
You love eating chili with a spoon, so why not sub that for something even yummier? Scoop your cheese and bacon covered chili up with crispy fries once and you may never use a spoon again. These loaded fries can also be made without bacon, but if you're doing meat you may as well go full throttle. (If you're not, a vegan chili version is coming later on.)
Learn how to make these Bacon Chili Cheese Fries here.
Loaded Nacho Fries
Who says chips have all the fun? Loaded nacho fries take nachos to the next level, which you'll find out for yourself when you grab your first crispy nacho fry. Just like with chip-based nachos, feel free to add your favorite nacho toppings on top. Cheese, beans, guac, and salsa are required, though.
Learn how to make these Loaded Nacho Fries here.
Classic Poutine
Poutine opens up a whole other world of loaded fries. That world is Canada. The famous Canadian version of loaded fries features a combo of gravy and cheese in the traditional recipe. Of course, things can get more interesting from there toppings-wise, as is customary with loaded fries.
Learn how to make this Classic Poutine here.
Animal Style Fries
Those who live on or have visited the west coast have been to the popular burger chain In-N-Out or at least heard of its lore. Even though it's a burger chain, its animal style fries have made a name all of its own. The simple combo of caramelized onions, melted American cheese, and russian dressing-esque sauce is a revelation.
Order them at In-N-Out (they're not listed on the menu, but they're there) or learn how to make these Animal Style Fries here.
Buffalo Chicken Fries w/ Bacon
If buffalo chicken is one of your favorite pizza orders, say hello to one of your future favorite loaded nachos. Buffalo chicken fries with bacon (or without, but why would you?) is all about bringing out the flavors of a buffalo chicken pizza except with crispy classic cut fries.
Learn how to make these Buffalo Chicken Fries w/ Bacon here.
Philly Cheesesteak Loaded Fries
There can't be a list of loaded fries in good faith without including a Philly cheesesteak version, a dish that also values lots of delicious, gooey cheese on it. Take the juicy steak, zesty peppers and onions, and fabulously melty cheese from the grinder roll onto a pile of crispy hot fries and you'll have successfully paid tribute to the classic sandwich.
Learn how to make Philly Cheesesteak Loaded Fries here.
Next Level Loaded Fries
Once people get a taste of the classics, they always want to experience the next level of loaded fries. There are virtually limitless possibilities when it comes to experimenting with flavor combinations and toppings of loaded fries. Here are some of the top next level loaded fry dishes to try.
Korean Fire Chicken Cheese Fries
Korean-style chicken is some of the most flavorful chicken you can get. With this next level loaded fries recipe, you can enjoy the explosion of flavors from Korean fire chicken on a bed of fries. If you love spice and chicken, you have found the right recipe.
Learn how to make these Korean Fire Chicken Cheese Fries here.
Pulled Pork and Gouda Cheese Fries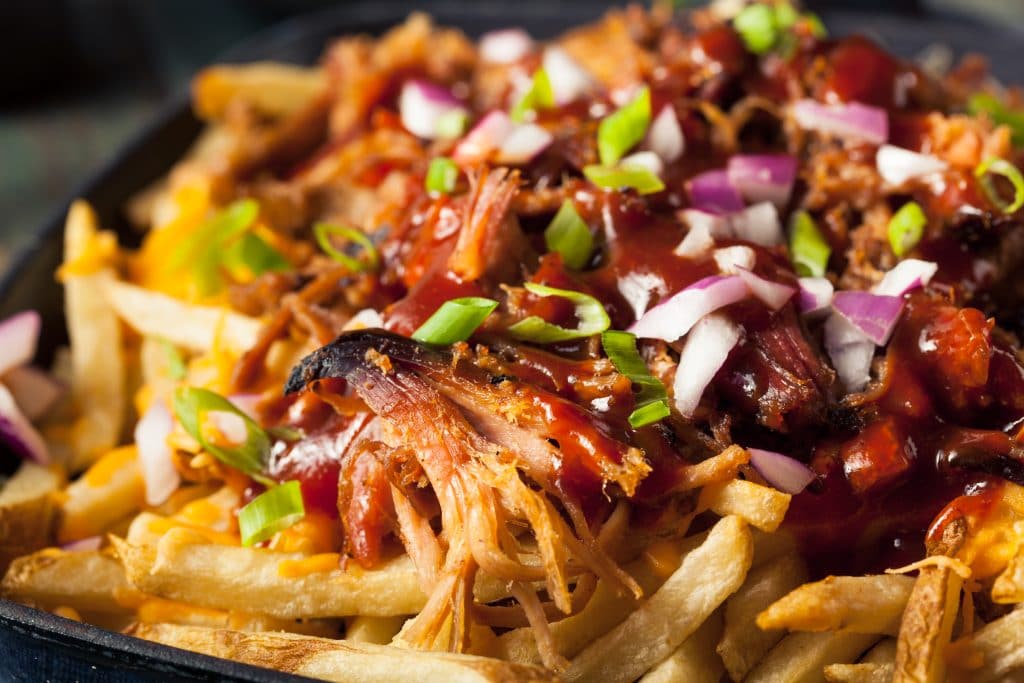 Those of you looking for a really gouda loaded fries variation have found it (along with some really bad puns). It's amazing that people never think to pair pulled pork with gouda because, as you'll find out, it tastes incredible. It's also way easier to make than it sounds from the name.
Learn how to make these Pulled Pork and Gouda Cheese Fries here.
Loaded Kimchi and Chorizo Fries
The flavors of Korean kimchi and Mexican chorizo come together beautifully over fires in this dish. Kimchi (a type of fermented cabbage) brings the spice and freshness while the chorizo (typically chopped pork with smoked paprika and garlic seasoning) brings the smokiness and deep flavor.
Learn how to make these Loaded Kimchi and Chorizo Fries here.
Hawaiian Carne Asada Fries w/ Pineapple Pico De Gallo
Welcome to Hawaii, indeed. It's understandable why people never want to leave the island if they have loaded fries like this there. Enjoy the deep, spice-packed flavors of carne asada with the fresh, light, and slightly sweet pineapple pico de gallo. It will make you feel like you're on vacation.
Learn how to make these Hawaiian Carne Asada Fries w/ Pineapple Pico De Gallo here.
Loaded Mediterranean Street Cart Fries
Treat yourself to a flavorful trip to the Mediterranean with this variation of loaded fries that features tzatziki, feta cheese, marinated tomatoes, and chickpeas atop a fresh bed of sweet potato fries. It's actually a really nice change of pace from the typical nacho-style loaded fries.
Learn how to make these Loaded Mediterranean Street Cart Fries here.
Loaded Maple Bacon Donut Fries
This is a dish for experienced loaded fry enthusiasts, or just anyone with a sweet tooth who loves donuts. Don't worry, the fries in this take of loaded fries are made with biscuit dough, so don't worry about eating chocolatey potatoes. If you're looking to make a unique and fun dessert, this sweet loaded fry recipe is a real hit. Those of you who are feeling really dangerous can serve savory loaded fries for dinner and this for dessert (again, recommended for loaded fry experts only).
Learn how to make these Loaded Maple Bacon Donut Fries here.
Plant-Based and Vegan Loaded Fries
Fries are already vegan, which makes them an ideal base for some incredible plant-based, vegan loaded fries recipes. People have become very good at recreating popular meat-based loaded fry recipes as vegan dishes. Once you get past those, though, the creativity of chefs working without meat really shines in some truly unique loaded fry creations.
Loaded Nacho Fries (V)
Loaded with flavor, free of meat and dairy. The level of hot creaminess you get from the vegan cheese sauce in these fries honestly should be studied by scientists. Same goes with the flavor and texture of the vegan ground beef. Until the scientists get to it, you may as well try them out for yourself.
Learn how to make these Vegan Loaded Nacho Fries here and check out the sweet potato version as well.
Chili Cheese Fries (V)
Everyone deserves to try one of the most popular loaded fries variations. Luckily, meatless chili and vegan cheese sauce recipes have gotten so good that it's very possible (recommended, in fact) to make an incredible vegan version of chili cheese fries.
Learn how to make these Vegan Chili Cheese Fries here.
Loaded Shawarma-Spiced Fries (V)
Vegans and meat eaters alike will love this flavorful take on loaded fries. Meat-eaters will be well advised to add Hyros Meat and a generous dollop of sour cream.
The combination of Middle Eastern spice blends and lemon tahini with diverse textures from the toppings and crispy fries makes this a real experience for your mouth.
Learn how to make these Vegan Loaded Shawarma-Spiced Fries here.
"Cheeseburger" Fries (V)
Yeah, veggie burgers are cool and all, but have you ever tried recreating a vegan version of a cheeseburger on fries? It's worth trying. You can use pretty much any style of fry you'd like, though crinkle cut fries seem to work well for this recipe.
Learn how to make these Vegan "Cheeseburger" Fries here.
Chimichurri Loaded Sweet Potato Fries
If you've never had chimichurri sauce, you could do worse than having it for the first time on an order of loaded fries. If you have had it then you can imagine how good it tastes on a batch of crispy sweet potato fries. The fresh mixture of parsley, garlic, vinegar, and chili pepper brings together the sweet potato, vegan almond cheese, and avocado to make this dish come alive.
Learn how to make these Vegan Chimichurri Loaded Sweet Potato Fries here.
Loaded Texas Fries (V)
Everything's vegan-er in Texas, right? In the case of these vegan loaded Texas fries, the answer is a resounding "yes." Usually waffle fries steal the show, but for this rendition of loaded fries they're simply the vessel for Texas brisket rubbed mushrooms, vegan cheese, and BBQ sauce on its journey to your taste buds. Yee-haw.
Learn how to make these Vegan Loaded Texas Fries here.
Vietnamese-Inspired Loaded Fries (V)
Fries are definitely not a Vietnamese food, but as it turns out some of the flavors and spices used in Vietnamese food taste really, really good on top of them. We're talking sriracha sauce, hoisin sauce, fresh coriander, fresh mint, radishes and some crushed salted peanuts for texture. Big thank you to Vietnamese food for inspiring this one-of-a-kind loaded fries dish.
Learn how to make these Vegan Vietnamese-Inspired Loaded Fries here.
Greek Style Loaded Fries (V)
Plenty of spices and freshness come together in this wonderful loaded fries dish. You may even feel healthier after eating them? (Yes, the question mark was intended.) The fries are spiced nicely with paprika and herbs and the loaded Greek style salad toppings add lots of freshness and varied texture. A delicious tahini yogurt dipping sauce adds yet another flavorful and textural element to these must-try vegan loaded fries.
Learn how to make these Vegan Greek Style Loaded Fries here.