Ceviche or cebiche is a famous Peruvian dish that isn't only healthy but also yummy.
This Latin dish is made of seafood (usually fish and shrimp) as its main ingredient which is accompanied by lime/lemon juice, chili, coriander or coriander leaves, onion, and some seasoning.
It's actually an interesting dish since the fish is "cooked" using acid from the citrus instead of using real fire. And yes, you can "cook" a protein with acid. But don't worry, ceviche isn't too sour to eat because Peruvian lime sourness is still tolerable. It's a refreshing and tasty dish!
You can serve ceviche as a bright appetizer on the weekend or in a summer family lunch. And, what can you serve with ceviche?
Check out this simple list of ideas and pick the one that you love!
Crispy Nachos
Crispy nachos and ceviches are perfect combo for weekend family snacks, especially in the summer!
Tostadas
If you love cooking something with tortilla, probably you should try tostada as well! Tostada means "toasted" in English.
Tostada is cooked tortilla (toasted or baked or fried). It's flat and crunchy. It usually has a nice golden brown color so you can use it as a base to serve your bright, colorful ceviche appetizer.
toasted Bread
Some carb sources that are crispy or crunchy can pair well with ceviche, including toasted tortilla and yep, toasted bread!
Yuca Chips
Yuca or cassava chips are great snacks already. And you can pair it with ceviches to eat with your friends or family! If you make your own yuca chips at home, make sure to slice it thinly to get a crispy texture!
Sweet Potato
If you want to pair ceviche with something sweet, try cooking sweet potato, slice it, and serve it with your ceviche.
Guacamole
Guacamole is an avocado-based dip/condiment/spread that is so popular and easy to make!
You just need to mash the avocado flesh and mix it with citrus juice and seasoning to make a basic guacamole. But if you want to be creative, you can add some diced jalapenos, tomatoes, and onions in it! It can be chunky or creamy according to how you mash it.
Crackers
Cheese crackers or saltine crackers matches well with ceviche.
Bean Salad
Bean salad is so easy to make! You can use pinto beans, black beans, canneliny beans, or kidney beans. Just mix your favorite beans, sliced onions, sliced peppers, and boiled corn, toss it with olive oil+corriander+lime dressing, and top with avocado slices.
Plantain/Banana Chips
If you want to use the plantain chips " to scoop your ceviche, you can slice the plantain vertically to make long edible "spoons".
LOVE FISH DISH? SEE ALSO
What to serve with pan-seared salmon
What to serve with fried catfish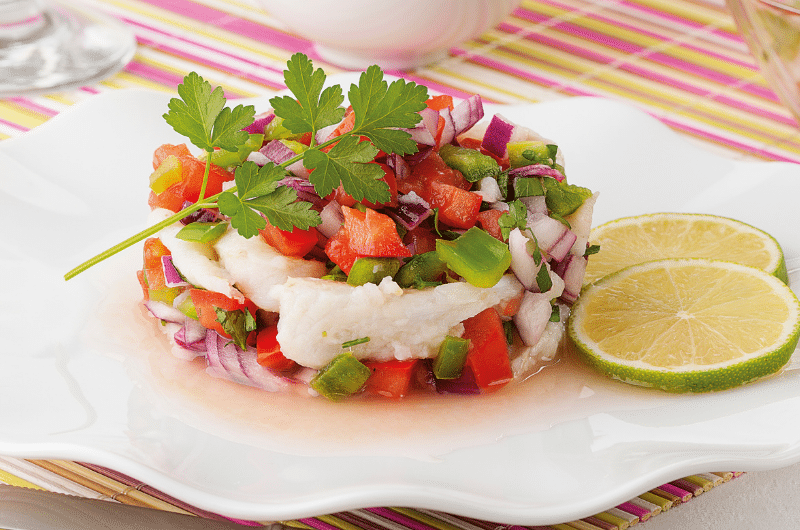 What to Serve With Ceviche? 9 Ideas To Try!
IDEAS
nachos

toasted bread

yuca chips

sweet potato

guacamole

crackers

bean salad

plantain/banana chips
DIRECTIONS
Pick your favorite idea
Prepare the food
Serve it with your ceviche!