Duck confit is a traditional French dish that has a rich taste and crispy texture on the skin. To make a duck confit, you will need to cure the duck before cooking it gently for hours. It needs a long time to prepare and when it's ready it can be stored for up to 6 months!
Duck confit tastes amazing itself. But with its mesmerizing flavor, you might want to pair it with something else to make it even fancier. And if you want to pair it with some sauces, down below is a simple list of sauce ideas that you can serve with duck confit!
Plum Sauce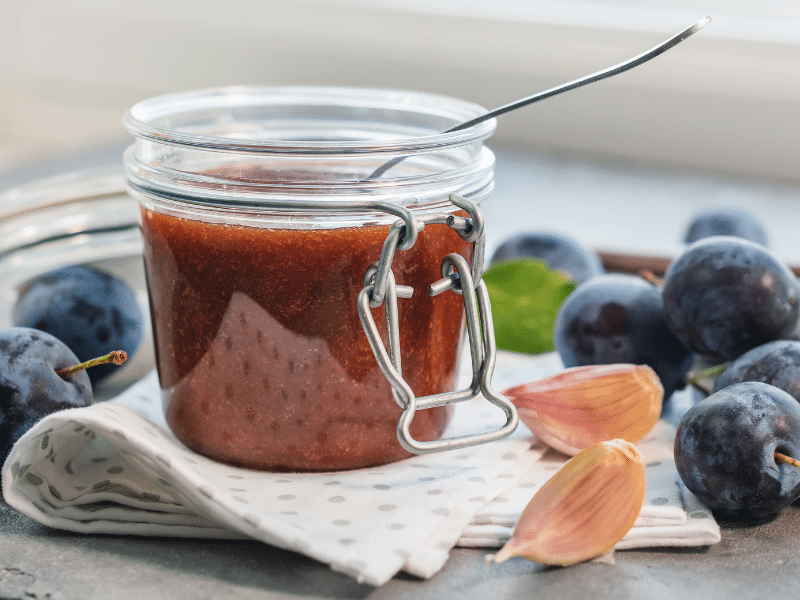 Plum sauce is probably one of the most popular match for duck confit. You can make it easily using a garlic, onion, brown sugar, water, vinegar, and of course plums!
HOW TO MAKE PLUM SAUCE:
Gather all your plums and remove the stems
Cut the plums and remove the seeds
Chop the plum
Mince the garlic
Chop the onion
Sautee the garlic and onion on a pan
Add the chopped plum
Add water
Stir in brown sauce and vinegar. Adjust the taste to your liking.
Serve
Cranberry Sauce
Duck confit pairs well with sauces that contains acidity. So, you can pair it with cranberry sauce. And you can make cranberry sauce with a few ingredients i.e. water, sugar, and the cranberries themselves.
HOW TO MAKE CRANBERRY SAUCE:
Boil 1 cup of water with 2 tbsps of sugar
Rinse and chop the cranberries
Add the cranberries (3 cups) to the boiled water
Stir well
Remove from the heat and let it cool
Cherry Sauce
Ideally, duck confit is paired with sour sauce such as sour cherry sauce. But if you love some twist you can also try sweet cherry sauce.
To make a cherry sauce, you can use stemless cherries, garlic, shallots, honey, lemon juice, and water.
Make sure to remove the cherry stems before cooking and better yet, chop them to make it faster. Oh, and also don't forget to chop the shallots and garlic.
HOW TO MAKE CHERRY SAUCE:
Prepare a pan on a medium heat, drizzle with some oil
Add the chopped shallots and chopped garlic, stir
Add the chopped cherries
Add water
Add honey
Add lemon juice
Season with salt and pepper
Remove from the heat and let it cool
Blueberry Sauce
You will need: blueberries, lemon, star anise, and honey.
HOW TO MAKE BLUEBERRY SAUCE:
Mix together in a saucepan or pot: blueberries, honey, star anise, water, and lemon juice
Bring it to boil and then simmer
When it starts to thicken, remove from the heat
Orange Sauce
Well, you need probably 2 or 3 oranges (the big ones). Squeeze them well and strain the juice before starting to cook.
HOW TO MAKE ORANGE SAUCE:
Heat up a small pan or pot on a medium heat.
Add lemon juice, brown sugar, rosemary, and garlic. Stir.
Simmer for 8 minutes.
Remove from the heat
Remove the rosemary and garlic.
Serve
SEE ALSO
What to serve with duck confit?
What Sauce Goes With Duck Confit? 5 Ideas To Try!
IDEAS
plum sauce

cranberry sauce

cherry sauce

blueberry sauce

orange sauce
DIRECTIONS
Pick your favorite sauce idea from the list
Prepare the sauce
Serve it with duck confit