Wanna have some Italian taste on your dinner table tonight? Perfect! Because today I'm going to share with you this long list of wonderful ideas of what to serve with pasta.
Caution: It's a LONG list. So, you'd better grab some coffee to accompany your side-dish or sauce hunting journey, and don't forget to take some notes just in case you find some GREAT ideas that make you feel indecisive about what to actually cook and serve with your pasta tonight.
Yeah, and since this is a long list, let's keep some time for the preamble and dive into the actual list!
Let's go!
What Side Dishes to Serve With Pasta?
Chicken Breast in Creamy Garlic Sauce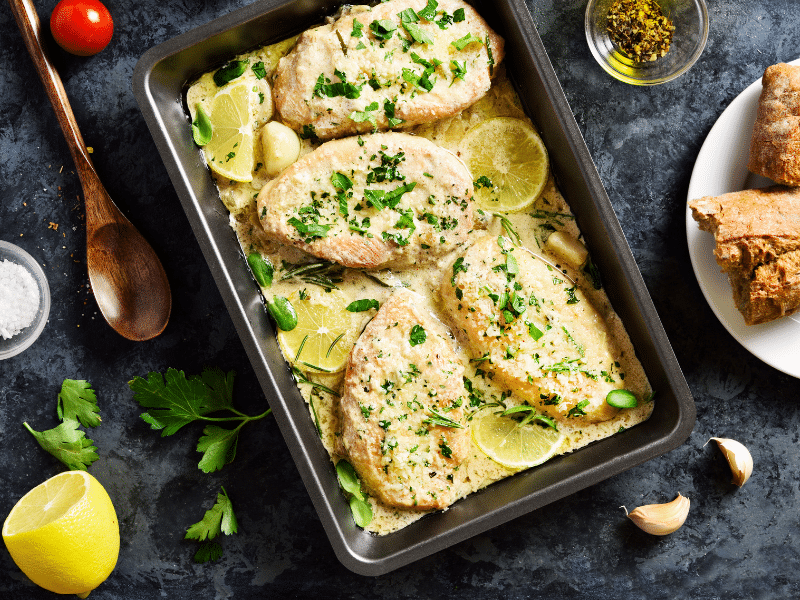 Cajun Chicken
Lemon Chicken Piccata
Lemon chicken piccata can be a GREAT side dish if you love the fresh taste of citrus zest paired with the savory protein of chicken breast. Pair it with linguine or spaghetti and voila! A wonderful combo of easy dishes!
Pesto Chicken
Simply Grilled Chicken
No matter which kind pasta you cook and what sauces you pick for your pasta, you can almost always pair it with grilled chicken. As for the seasoning, you can just grab some herbs, salt, and pepper! Super simple, easy, and quick! You only need a simple skillet too, not complicated utensils!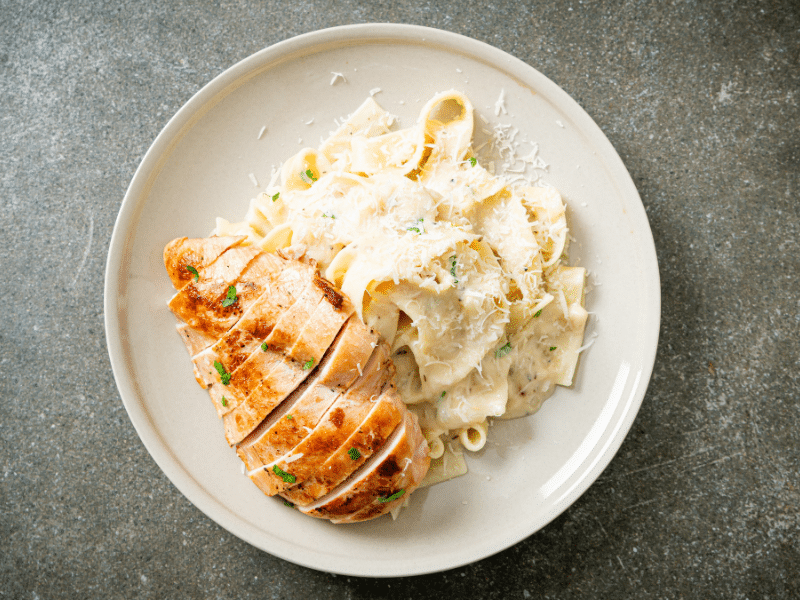 Grilled Salmon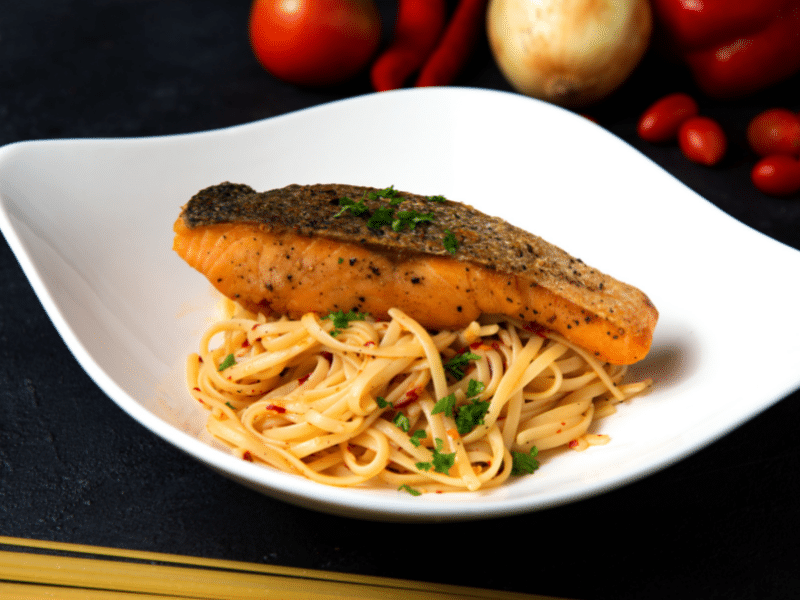 Baked Salmon
Fried Salmon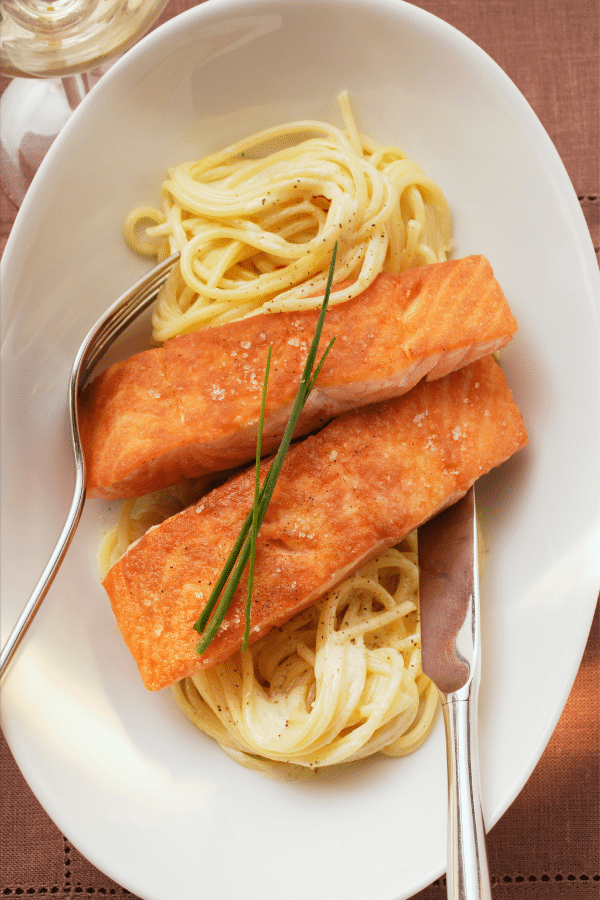 Spicy Garlic Shrimp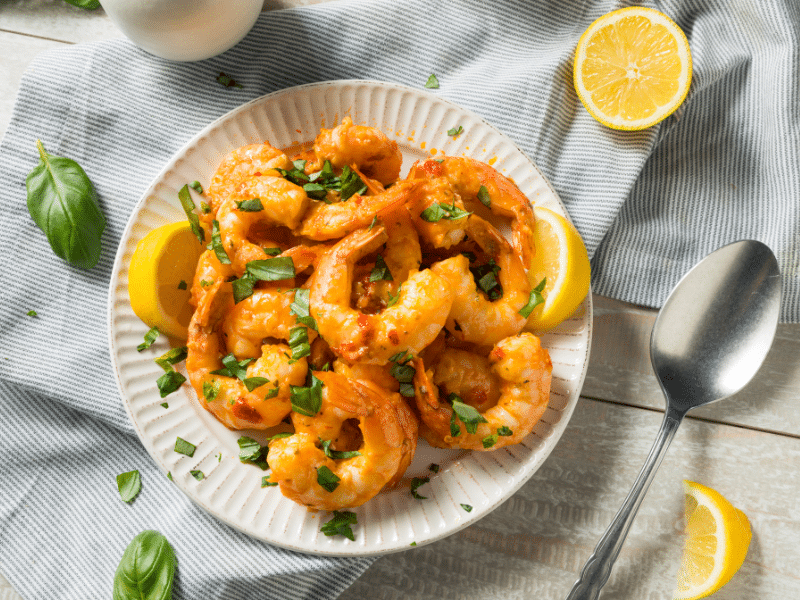 Garlic Lemon Shrimp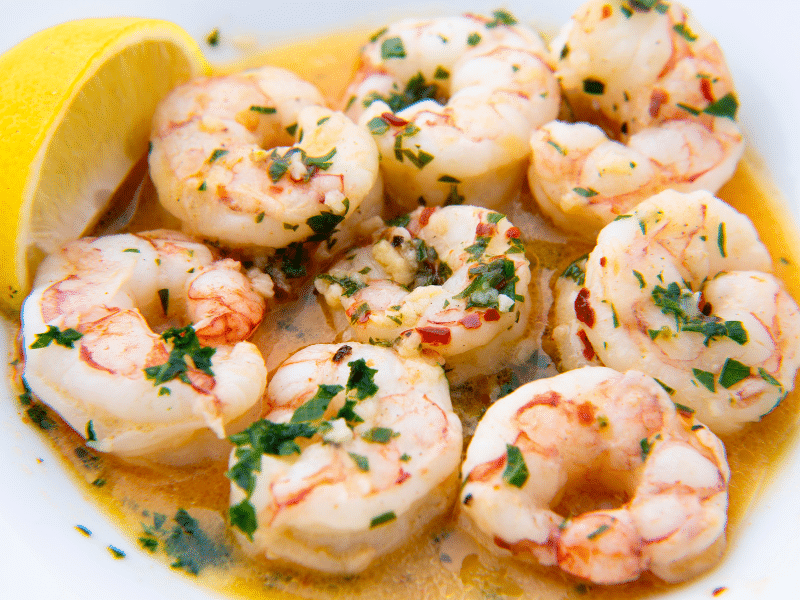 What Vegetables to Serve With Pasta?
Roasted Zucchini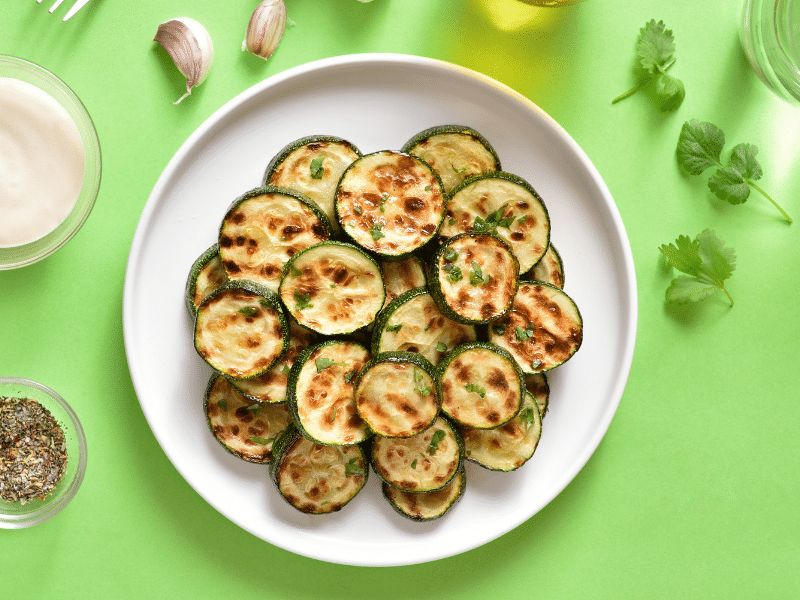 Roasted Carrots
Lemon+Garlic+Parmesan Roasted Asparagus
Potato Salad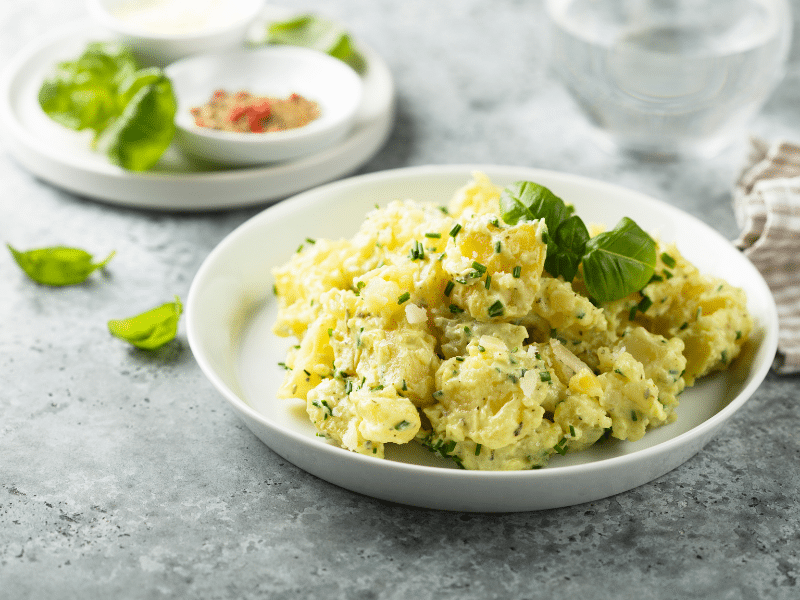 Caesar Salad
Lemony Arugula Salad With Pine Nuts
Cucumber Salad
Spinach Chicken and Pomegranate Salad
Roasted Cauliflower Salad
What Bread to Serve With Pasta?
Garlic Bread
Tomato Bruschetta
What Sauces to Serve with Pasta?
Green Pesto Sauce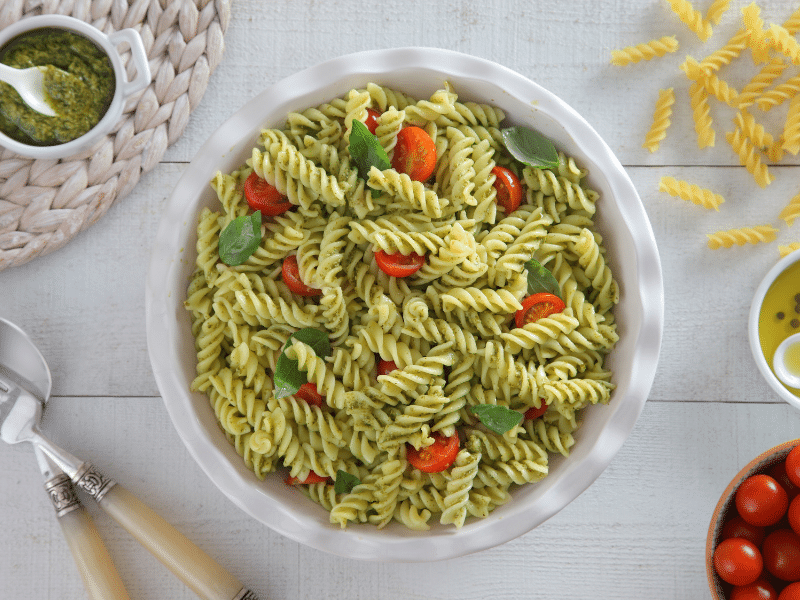 Pesto isn't only a dipping sauce, you can serve your pasta with pesto!
Creamy Alfredo Sauce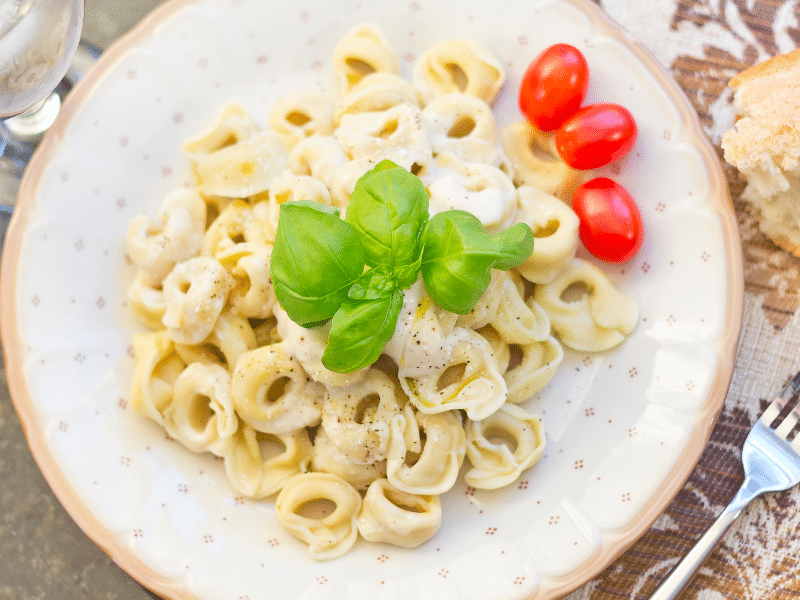 Spicy Marinara Sauce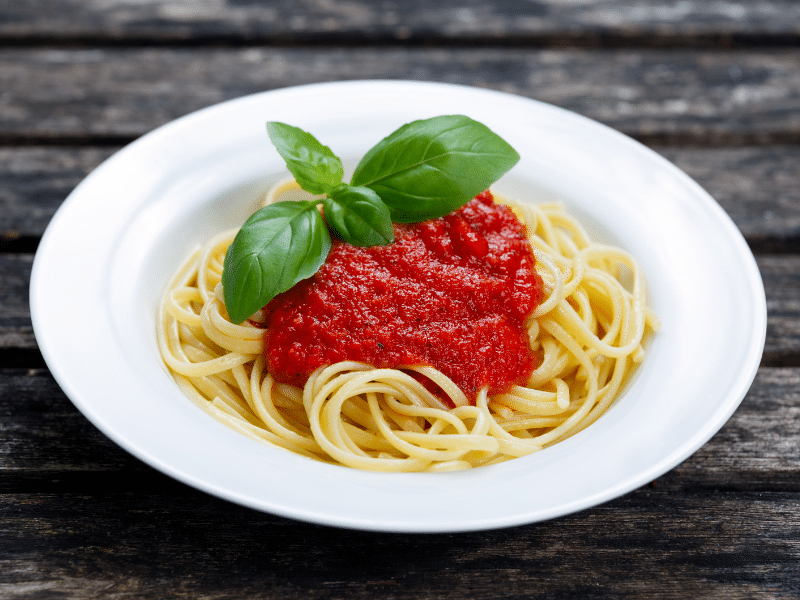 Meaty Bolognese Sauce
Creamy Carbonara Sauce
If you love something creamy for your pasta and you have more time and ingredients in your kitchen, you can try preparing carbonara pasta instead of the basic alfredo sauce. Carbonara is so delicious and rich in taste!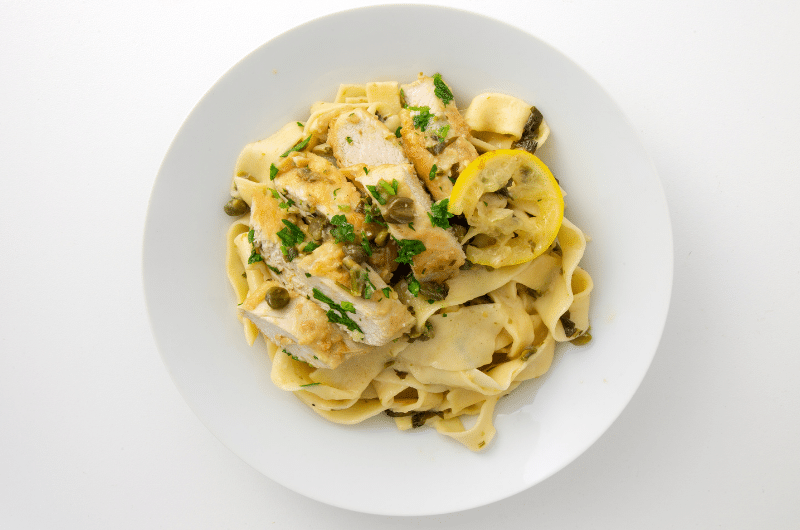 What To Serve With Pasta? 26 Sides + Sauces Ideas!
SIDES IDEAS
chicken breast in creamy garlic sauce

cajun chicken

lemon chicken piccata

pesto chicken

grilled chicken

grilled salmon

baked salmon

fried salmon

spicy garlic shrimp

garlic lemon shrimp

roasted zucchini

roasted carrots

lemon garlic parmesan roasted asparagus

potato salad

caesar salad

lemony arugula salad with pine nuts

cucumber salad

spinach chicken and pomegranate salad

roasted cauliflower salad

garlic bread

tomato bruschetta

SAUCE IDEAS

green pesto sauce

creamy alfredo sauce

spicy marinara sauce

meaty bolognese sauce

creamy carbonara sauce
DIRECTIONS
Pick your favorite side dish and sauce
Prepare the pasta, sauce, and dish
Serve them together