Kitchen is the part of the home where we store so many things in various sizes.
That's why this place can be greatly messy especially when we only focus on cooking or baking (instead of organizing).
Think about it.
When your kitchen is organized in a great system you can easily find things for cooking and you don't need to be embarrassed when your sister or best friend visit and *unintentionally* see your kitchen.
When you feel like organizing things, something that probably hold you back from doing it is when you realize that you don't have awesome organizer to organize things efficiently.
Well, actually, you can organize so many things without any fancy organizer.
You can do it using cheap finds.
And better yet, you can use some DIY projects for organizing things.
Down below are creative DIY organization ideas for the kitchen and pantry.
Check them out and try the ideas you like!
Make sure everything has a "home"
From Decor Hint
Store all the foods and utensils in baskets, jars, bins, or containers.
You don't need luxurious items.
Cheap finds from the dollar store can fix the problem.
Yes, everything must have a home, including remaining items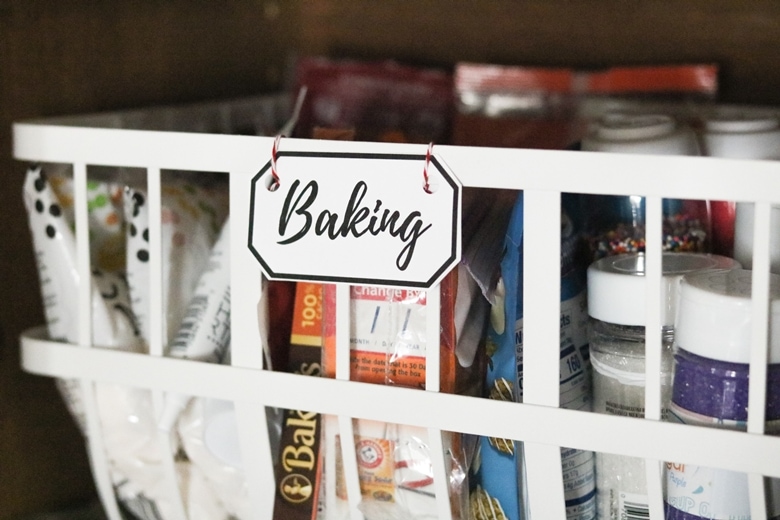 From Crayons & Cravings
You will need several cheap baskets/bins to do this, depends on how many categories you make.
The most important thing is making sure that the baskets/bins are transparent or see-through so you can find things easily.
Hanging Mesh Produce Bags
This DIY produce bag is so creative and beginner-friendly!
If you love sewing you can surely try this creative idea!
Make sure you use nylon web instead of regular fabric. This lets you see what's inside the bag easily and it also let the produce "gets some air".
DIY Drawer Organizer For Plastic Containers and Lids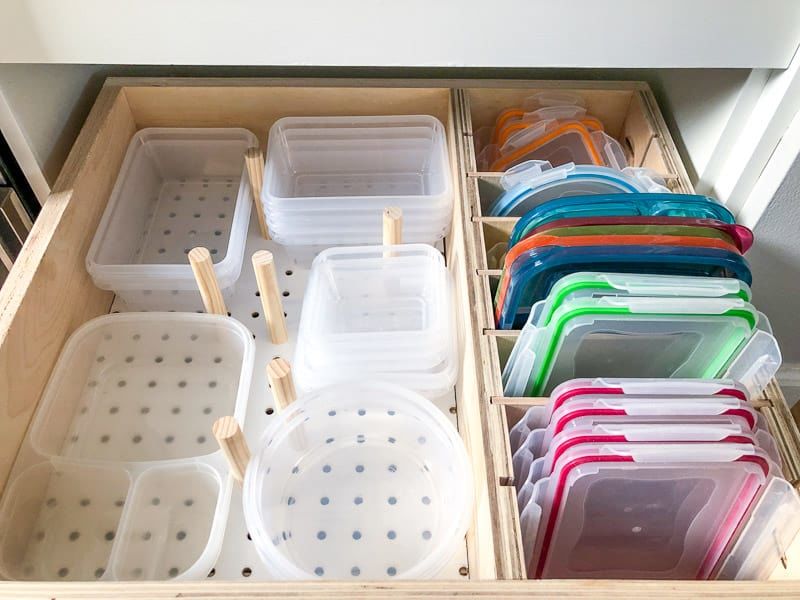 Wait.. what??
I mean, this DIY project is GENIUS!
I know that you can use drawer organizers for categorizing spoons or spices.. But, plastic containers???!!
I think the most impressive thing about this idea is, the lids and the containers are separated in a really space-saving way!
I really love this DIY idea!
If you have been struggling with organizing bulky containers you can give this idea a try!
Use Cheap Basket To Make A "Coffee Corner"
From Feeling Nifty
Grab some cheap basket (large one) in your local dollar store and use it as the "base" for placing coffee-and-tea items.
This is definitely a super cheap way to make a "coffee corner" in your kitchen.
I think it can help people (everyone in your home) understand that if they put something from the basket they should put it back in it. So the basket acts like a "border". Imagine when you only group the coffee items directly on your countertop, the mess can easily build up day by day.
I hope you understand what I mean, hahaha.
Organize spices in clear containers + jars and gather them inside a cabinet
From Making Manzanita
When you have one empty cabinet in your kitchen, you can use it as a dedicated space for your herbs and spices collection!
Make sure that the cabinet is close to your cooking area so you don't need to walk when you want to grab some spices.
DIY Spice Organizer (magnetic)
From Mom Makes Dinner
Yes, you can make it on a budget as this beginner-friendly project needs inexpensive supplies!
You can install it on one side of your cabinet or on the wall.
Label everything!
From Country Girl's Life
Finally, to help you find things quickly, don't forget to label everything in your kitchen or pantry.
Happy organizing!