There is a lot of stuff in the kitchen.
Throwing all those utensils inside the kitchen cabinets might be a super quick hack to hide them.
But it can also easily create a huge mess.
So, how to actually fix the problem?
Down below is a great list of kitchen cabinet organizing ideas.
So check them out and use it all to fight the mess!
NOTICE: If you cannot find the pictures in this post, please visit the links. Sorry!!
Organize pans and baking trays in a metal file organizer
Instead of stacking them with other things, just arrange your baking trays and cutting boards in a metal file holder.
Label your clear containers with printables
Craft yourself pretty printables or just download them here for your kitchen containers.
Labels can help you distinguish things quickly so you can save time in the pantry!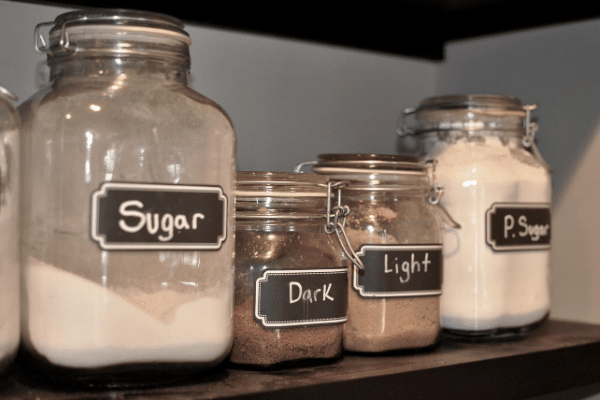 Organize your baking cups and cheatsheet behind the door
Alright, if you love baking so much you should really take your baking activity to the next level by applying this genius organization tip.
Hang your baking cups behind the door and make a cheat sheet there.
Store cupcake liners in a mason jar
Colorful baking cups are pretty, but they need an integrated arrangement to make them easy to find and pleasant to the eyes.
So grab a mason jar and stack all of your baking cups inside.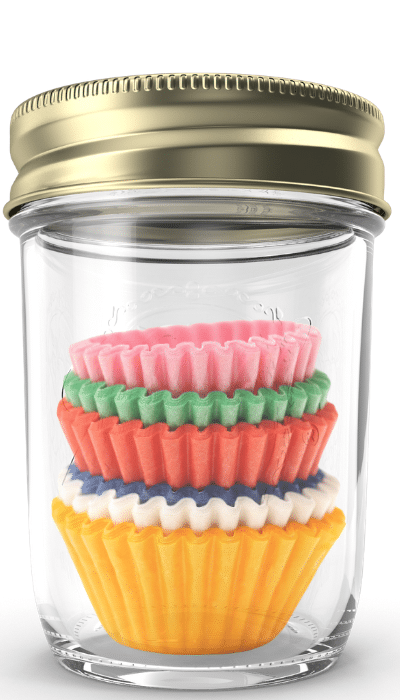 Organize appliances in baskets
Got too many cables and appliances to organize inside your cabinet?
Get some plastic baskets to arrange them!
It's budget-friendly!
Install a pull-out rack
find picture and tip on HGTV
There are so many creative hacks to organize your spices… and one of them is installing a pull-out rack.
This trick would be so useful especially if you love cooking cuisines with many spices at once.
Hang your mitts and hot pads using adhesive hooks
Just install some cheap adhesive hooks behind the cabinet door and you can use it to store your hot pans and mitts.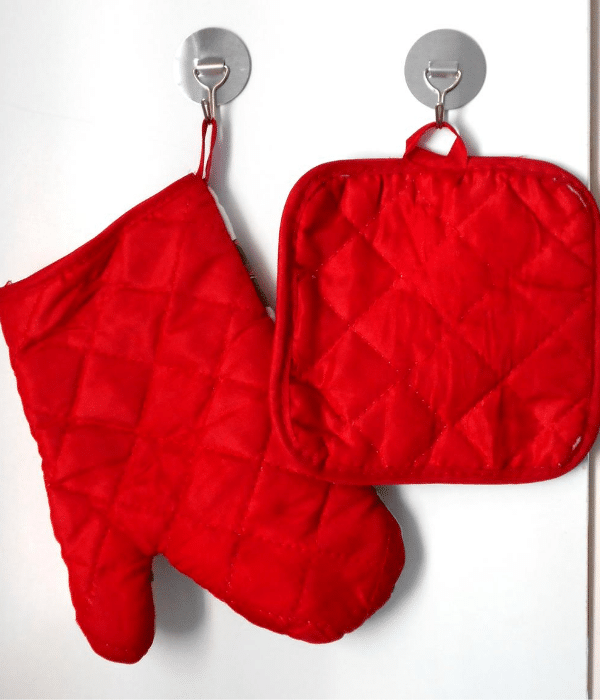 You can easily get adhesive command hooks here.
Use adhesive hooks+wire basket to store cleaning supplies
Optimize the space behind your cabinet door to store cleaning products.
Some adhesive hooks can help!!
You can easily get a wire basket and adhesive command hooks here.
Or use a stackable sliding basket
from Amazon
Get a pull-out rack to organize your cleaning products under your sink.
You can use the upper part to organize everyday cleaning products and use the lower rack for extra supplies.
Or use a towel bar behind the door
Got too many cleaning sprays? Try to hang them behind your cabinet door. You just need to install a cheap towel rack and you can give your cleaning products a new home.
You can easily find a towel bar here.
Craft a DIY Rack to organize your plates
Craft a DIY rack and use it to organize your plates.
You can see the full instructions here.
Organize your bottles using magazine holder
Did you know that you can use your magazine holder beyond your office?
Well, actually there are so many ways to use your magazine holder to organize your home, and one of them is for arranging your bottles.
Here's a selection of floral magazine holders that we like.
Hang those plastic bag rolls
Get rid of messy and bulky plastic bags by applying this hack.
Instead of throwing your trash bags inside your cabinet, try to hang them under your sink.
It makes your plastic bags easy to access too!
Tackle the mess inside your cabinets with some lazy susans!
Lazy Susan is a turntable organizer which lets you reach that "hidden" bottle easily.
So it's time-saving too!
You can easily get a Lazy Susan here
Keep your Cooking & Baking Utensils in 1 Area
from Two Twenty One
Wow, super easy organizing solution! If you love cooking and baking you need to try this trick!
Get some hooks and arrange your baking things in one cabinet so you can find them easily whenever you want to make cookies.
Use a tension rod to organize the pot lids
A tension rod is a creative way to organize things.
So try to install it inside your cabinet to organize the pot lids.
Organize your pockets inside sink caddies
from Make Bake Celebrate
Got too many pockets and small packages of snacks? Install sink caddies and place your pockets there.
You can easily get sink caddies here.
Use a stackable mesh shelf
Keep dishes easy to grab by organizing them on this stackable mesh shelf.
This can help you optimize the space!
Organize your keys and bill reminder on the door
Create a bill reminder and other important deadlines to bring your cabinet function to the next level.
The power of baskets!
Organizing is easier when you practice categorizing.
And one of the easiest ways to categorize your things is by using boxes or baskets.
So have yourself some boxes and baskets to categorize your foods.
Don't forget to label each basket to help you find things easily!
Last but definitely not least, use a drawer divider!
I am so in love with this aesthetically-pleasing organization system.
By using a drawer divider you are able to find your specific spoon super quickly and super easily.
You can use this system to organize your forks, spoon, knives, cards, and even keys!
Easily get a drawer divider here.