Laundry happens.
And laundry room is undoubtedly one of the most important part of the house.
Letting this area messy can ruin your mood and bother other activities in your daily life.
So, keep this area tidy. Give it a great organization system to help you run your daily laundry peacefully.
Down below are some inspiration that you can try at home if you want to redesign your laundry room!
Minimalist Laundry Room
Consider this idea if you..
love minimalist lifestyle, or
don't have a wide enough space, or
don't like seeing washing machine exposed
Inside a large built-in 'closet', stack the front load washing machine and drying machine (make sure they're stackable). If you still have a room on the top of the machine, you can use baskets or make a simple shelf using a board for organizing detergent, softener, and other cleaning products as well.
Cute Floating Shelves
Floating shelves are pretty easy to install and practical to use.
If you want to put some items around your washing machine in a cute way, you can mount short floating shelves on the wall in a 'zig-zag' way so it doesn't look monotonous.
Open Shelving for Quick Access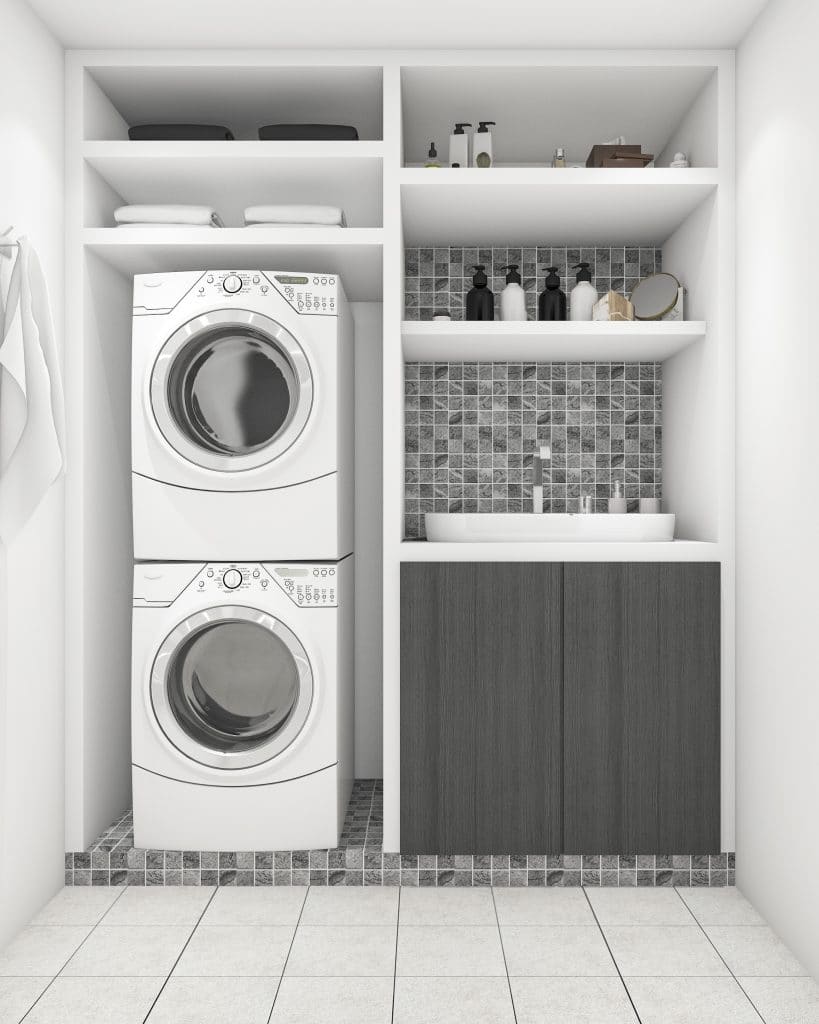 This is great for when you have a narrow space and want something efficient.
Stack the machine (make sure it's safe) inside a built-in tall open shelving that optimize space very well.
Put Shelf Beside The Machine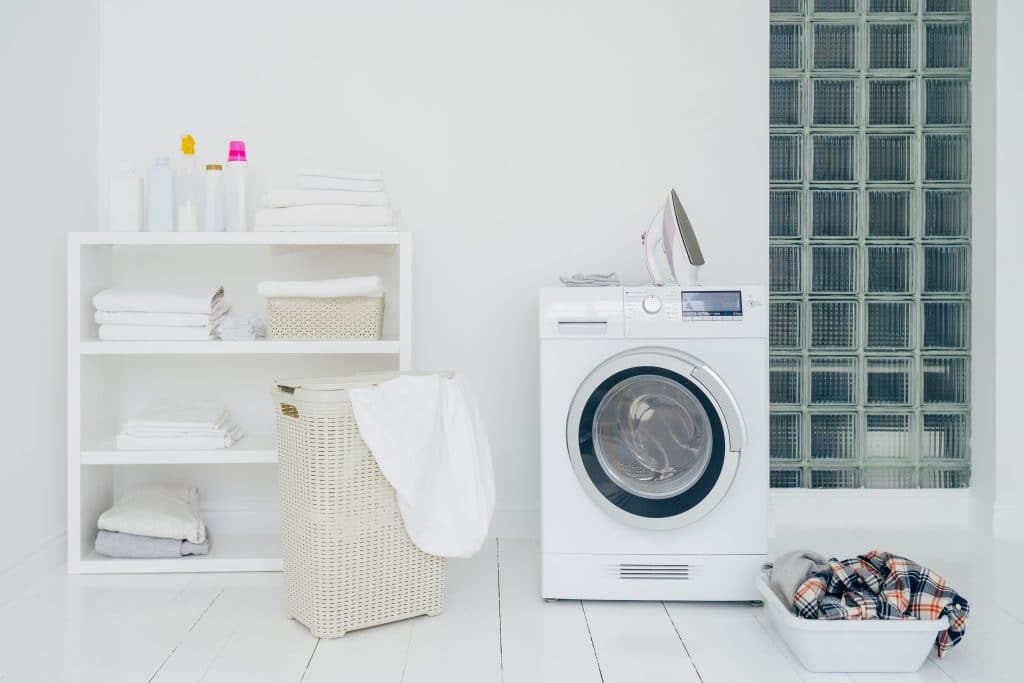 If you don't have too many things to store and you have a wide area, you can just put a simple shelf beside the washing/drying machine.
You can use the shelves to organize linens, soaps, socks, or even decorations.
You can also use baskets to organize things even tidier.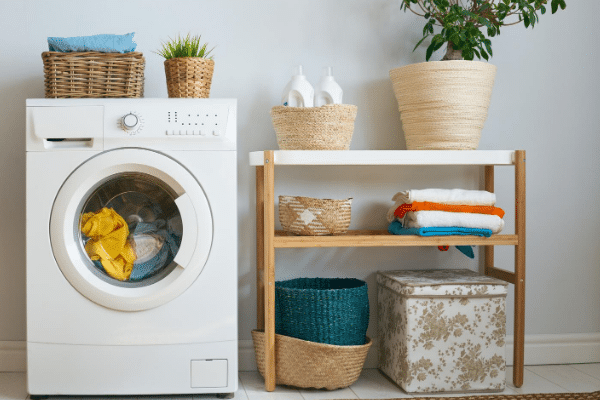 Install Separate Cabinets And A Hanging Rod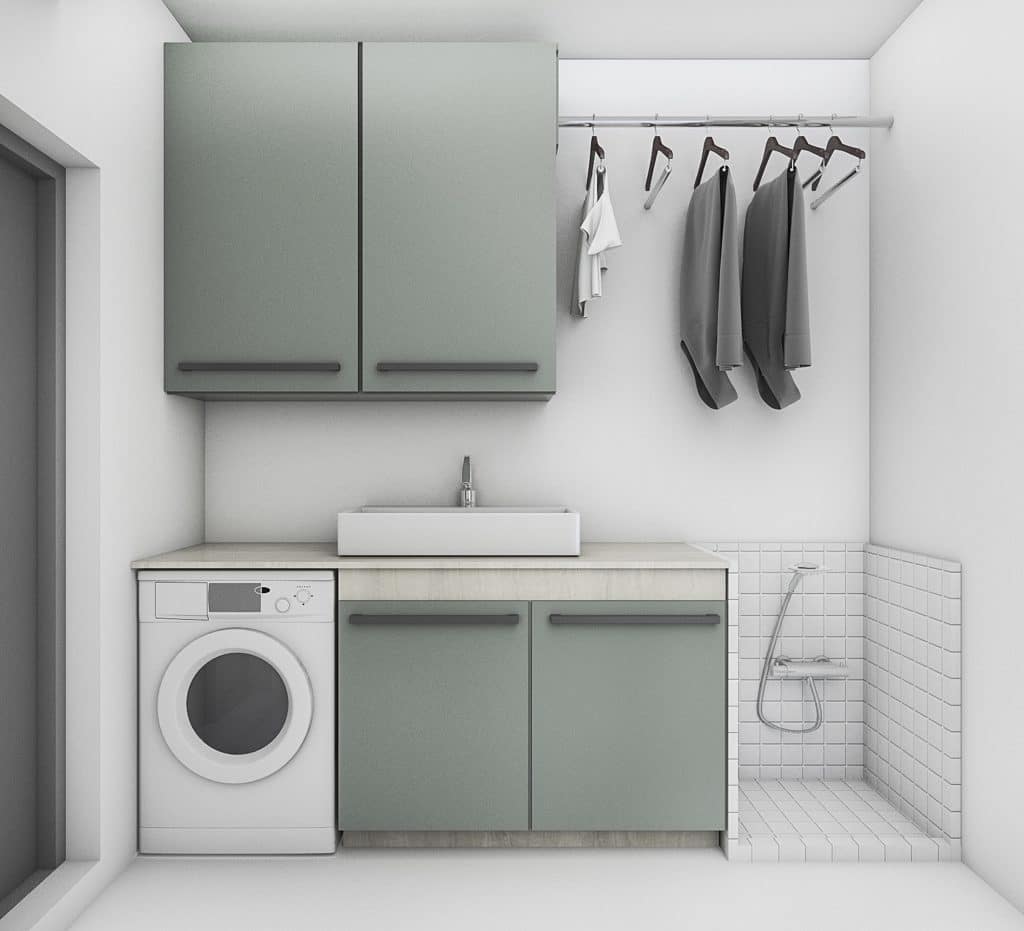 Install cabinets on the wall and on the floor (beside the machine) to help you store so many items and keep them covered tidily.
Cabinets are perfect for busy people who love 'hiding' messy items behind the door. But if you want to be really organized, don't forget to use baskets to organize items inside the cabinets.
Beside installing cabinets, you can also install a hanging rod for hangers. You can use this as an extra drying space.
Combine Cabinets, Hanging Rod, and Open Shelving Together
This fantastic laundry room design looks elegant … and expensive. Hahaha!
If you are willing to sacrifice money for elegance and ergonomic design you can try this idea in your future house.