Cleaning can be daunting.
And it can be expensive, too.
That's when you choose the hard way.
Actually, cleaning can be done easily using cheap supplies!
Down below are home cleaning hacks that needs simple & affordable supplies!
Go check them out!
Dust the Lampshade using Lint Roller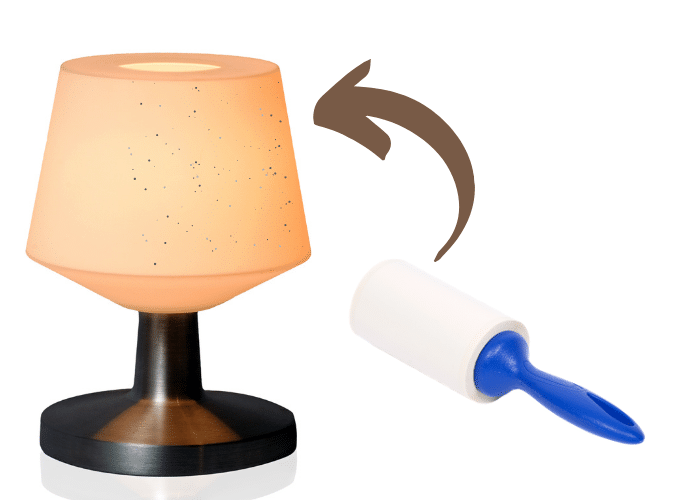 Dusting the lampshade can be challenging and tricky, am I right?
Don't forget that you can use a lint roller to make life easier!
When Cleaning the Lamp, Dust the Lamp, Too
Cleaning the lampshade is a good idea. But you might be wondering why the light isn't as bright as it used to be.
A dusty lamp bulb might be the reason.
So, unplug the lamp, carefully remove the lampshade, and when it's cool start removing the dust from the lamp bulb.
You can use a soft microfiber cloth to do it.
Microwave The Lemon
The general cleaning technique in the kitchen is typically : spray and wipe, right?
But how do you spray the interior of the microwave? Wouldn't it be tough?
Hey, you can put a slice of lemon into a microwave-safe bowl (with water or plus vinegar) and then microwave it for 2-3 minutes. Let the mic does the job of spreading the lemon juice to its own interior wall.
After that, wipe it with a damp cloth.
Or You Can Use A Dish Soap
If you need to clean your mic but you don't have any lemons, you can try using liquid dish soap.
In a microwave-safe bowl, put a few drops of dish soap with 1/2 cup of water.
Close the mic door and let it run for 3 minutes.
After that, leave for another 3 minutes to let the steam covers the interior surface.
Then open the door, carefully remove the bowl, and wipe the inside wall.
Sprinkle Baking Soda Before Vacuuming Your Couch
Sprinkle some baking soda on the couch to make a very thin layer.
Leave it for 20 minutes.
And then start vacuuming it.
It can help you deodorize your couch!
Use Play Dough to Clean Spilled Glitter
Use Vinegar to Clean Calcium Deposit Around the Sink
You Can Also Use Vinegar to Clean Showerhead
Pour a cup of vinegar and into a plastic bag.
Then, wrap the plastic bag around your showerhead so the "dirty" part of the showerhead is soaked in vinegar.
Secure with an elastic/ rubber band.
Let it sit overnight.
Wipe it in the morning.
P.S. you can add a teaspoon of baking soda into the plastic bag so it becomes baking soda + vinegar mixture.