Some people want their home decor to be just a 'decoration', a fine art.
Some people prefer home decoration that adds beauty and helpful function to the home.
If you are looking for pretty and functional home decor with rustic style, you're in the right place!
I just compiled 10 amazing things you can add to your house as beautiful organizers. So check them out now and let me know what you think!
DIY Floating Shelves
These elegant shelves are perfect to be placed in the bathroom, kitchen, or any room that has too many things to organize. To create these shelves, you need some pine or whitewood board, some screws, and a super strong wood glue.
DIY Mail Sorter
If you got a ton of mail every week, you definitely need a mail organizer. This rustic mail organizer can be a good choice.
It has some key hooks too! Surely a decorative organizer.
DIY Ledge Shelves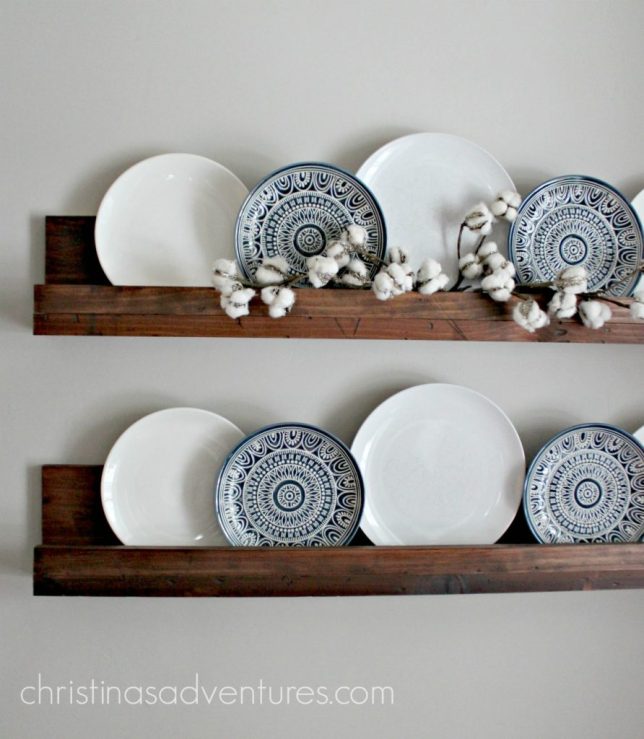 If you love traveling to exotic places and bring home some antique plates, you might need something at home to display your collection.
You can make your own ledge shelves out of wood and hang it on your wall to organize your plates.
DIY Floating Kitchen Shelves
Pretty up your kitchen with this DIY floating shelves.
From sugar to coffee ground to mugs to tea towels, this shelf is a perfect organizer for coffee&tea stuff!
DIY Crate Bookshelf
If you have a stack of crates at home, build them up to make a bookshelf.
Wood and Metal Wall Chubby Shelf
Display your favorite mini pot plants or craft utensils using this rustic shelf. It is pretty easy to make and absolutely cheap!
DIY Industrial Pipe Shelves
These shelves are simple but amazing-looking! You can place them on your bathroom wall to organize towels and toiletries or in your kitchen to organize jars.
DIY Barn Board Shelves
via beauty4ashes-ellie.blogspot.com
You can put these shelves in your bathroom, kitchen, or even in the bedroom. Rustic boxes are great to be placed everywhere in the house.
DIY Ladder Shelf
A rustic bookshelf can be made out of a wooden ladder, too! So if you got an old ladder, you can reuse it to make a home library.
DIY Ladder Display Shelves
This shelf is another ladder product, except it's kept in the vertical shape. You can put it outdoor or indoor to organize your plants, jars, or other collections.
Happy decorating!
Don't forget to save these ideas!