Organizing the kitchen cabinet can be a little challenging.
Especially when you love "hiding" everything inside it.
Because, yeah. Let's admit it.
Seeing scattered things above the kitchen counter is not pleasant and you probably are tempted to just throw everything inside your cabinet carelessly. Moving the mess from one place to another.
Guess what, you can actually make your kitchen cabinets organized and make things easy to access.
Use these organizing ideas to help you fight the mess!
Come on! Get up! Start organizing!
Stack to add space
From Slumber & Scones
When you feel that your cabinet space is too tall that so many vertical spaces are wasted, you can put an organizer or a stacking shelf inside the cabinet to hold more things.
In this example, you can use the upper part for small bowls and the bottom part for plates.
A QUICK TIP: Whenever you install something new in your kitchen, make sure it's sturdy to reduce the risk of accidents.
DIY Drawer Organizer
You can use drawers for multiple things.
You can use it for cutlery, wraps, even keys and cards!
For taller drawers you can use it for bowls, glasses, plates, and jars!
Just remember to categorize, categorize, and categorize!
Make sure each drawer has its own distinctive purpose.
Oh, and also don't forget to divide your drawers when there are various items inside a drawer. A drawer divider can help you access things easily!
P.S. If you don't have time for DIY, just grab this awesome drawer organizer.
DIY Cutting Board Holder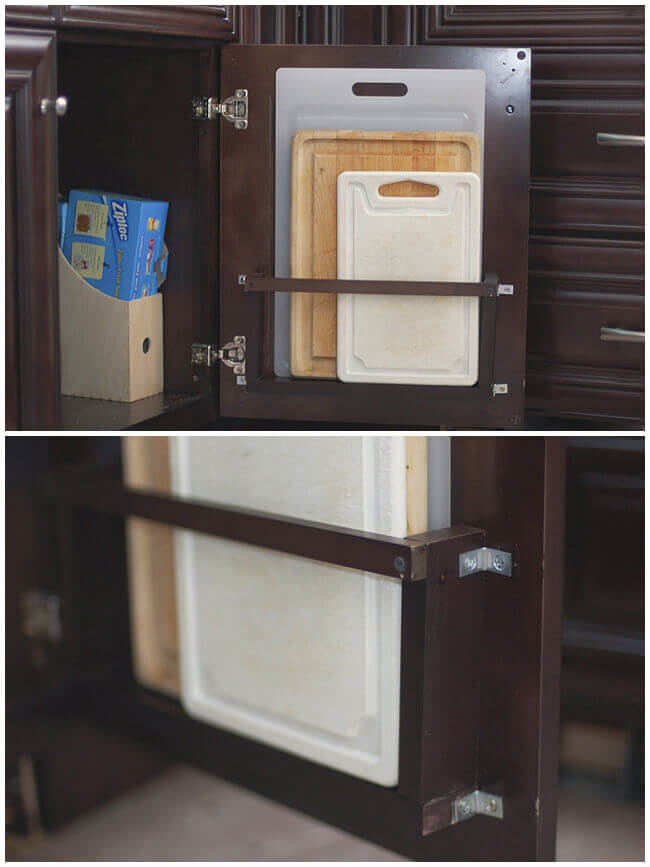 From Tikkido
Don't let slim things like cutting board occupy too many space in your kitchen.
You can use the space behind your cabinet door to hold them!
Install Pull-Out Drawer
From Small Stuff Counts
Got no drawers in your cabinet?
Hey, it's not the end of the world!
You can install some pull-out drawer and use it to organize baking supplies or anything else in your kitchen cabinet!
If you're not interested in purchasing that fancy-looking organizer, you can use a big plastic container or basket and use it as a pull-out drawer!
Hang The Measuring Cups
From Pink Fortitude
If you love baking, you probably use measuring cups so often.
Where can you hang and display a measuring cup without taking up too much precious space in your kitchen?
Well, you can use the space BEHIND THE CABINET DOOR!
Don't forget to label each of the cups to help you distinguish them and find them faster!
Build A Spice Cabinet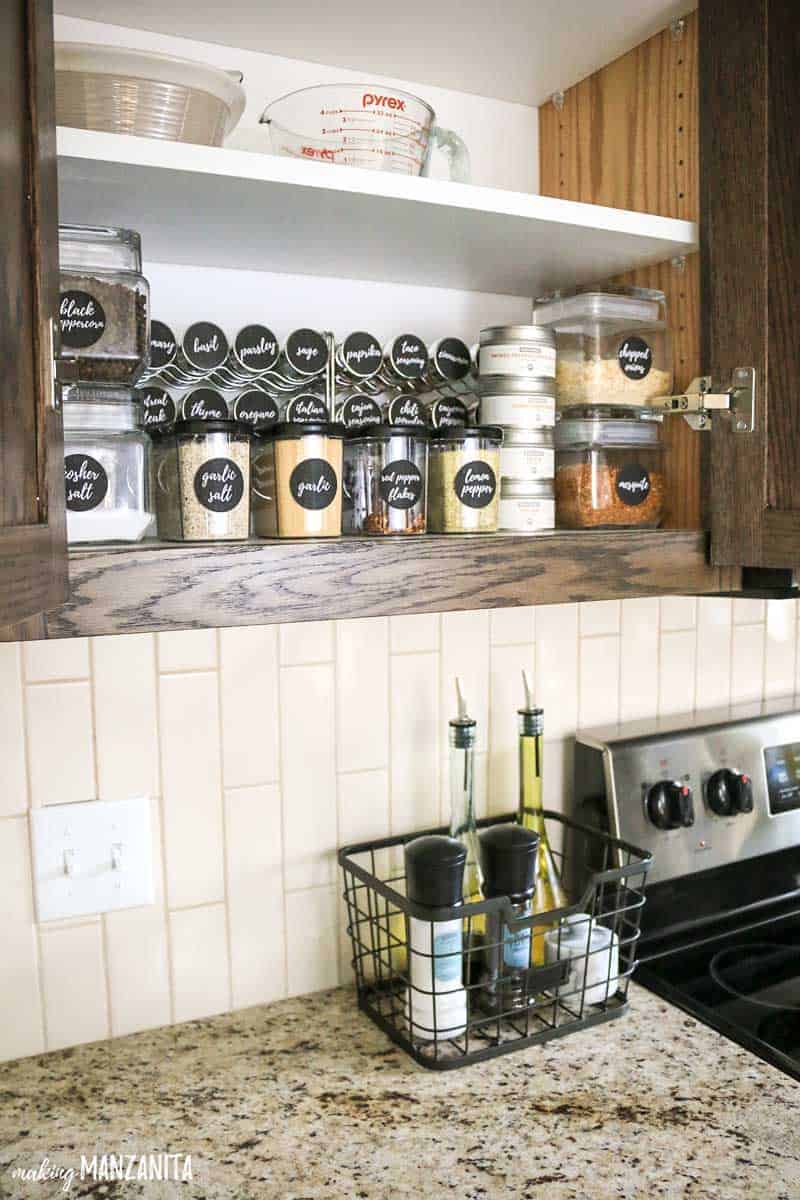 From Making Manzanita
When you love cooking international cuisines, chances are you have so many herbs and spices in your kitchen.
How do you organize them all?
You can use your kitchen cabinet!
Dedicate 1 or a half cabinet for your herbs and spices collection.
You can also put a spice rack inside the cabinet to help you organize them!
Happy organizing!