Whoever invented steak was a genius. This food is super easy to make and super versatile! There are different side dishes for steak. You can pick one based on what you like and what you have at home.
Steak is basically a grilled/pan-fried slice of meat which is usually cooked with rosemary or garlic. The seasoning is super simple, just salt and pepper. It means that everyone can easily make steak at home as long as they got the basic tool and ingredients.
Now the real question is, how do you serve your steak?
I mean, you can eat it as is plainly but that doesn't sound appealing enough for a family dinner. So, what to serve with steak?
There are different side dishes you can serve with steak. In this post, you can find several of them. Hopefully, you can pick a great idea that suits your taste and you can try it at home tonight.
Check out this list!
French Fries
Let's begin with the easiest and probably most popular option. French fries are super easy and super quick to make (get the frozen shoestring at the supermarket and deep-fry it or air-fry it at home). So, if you're too hungry for making a complicated side dish or you just want something that is super beginner-friendly, pair your steak with french fries.
Don't forget the seasoning!
Ingredients
frozen fries
salt and pepper
olive oil
cooking spray for air fryer
How to make
AIR FRY: preheat the air fryer, spray the air fryer basket with cooking spray, place the frozen fries inside the air fryer, cook it for 20 minutes, toss it with salt and pepper
DEEP FRY: heat up a generous amount of oil inside a deep-fryer or deep frying pan, cook the frozen fries in it until golden brown, turn off the heat, transfer the fries into a bowl and remove the excess oil with paper towel, toss with olive oil, salt and pepper while it's still warm
Baked Potato Wedges
If french fries sounds too casual for you, maybe you can try serving your steak with potato wedges. You don't need fancy cooking appliances to make this simple dish. It's so easy to make too!
Ingredients
russet potato
olive oil
minced garlic
onion powder
How to make potato wedges
preheat the oven to 400 F, prepare baking sheets and line them with parchment paper
cut the potato into wedges: cut it into 2, and then cut each part into 3 (so 1 potato makes 6 pieces)
mix in a bowl: olive oil, garlic, onion powder, salt and pepper
toss the potato wedges with the oil mixture
spread the potato wedges on the baking tray
bake for 30 minutes (don't forget to flip the wedges during the baking process)
turn off the oven and serve the wedges
Mashed Potato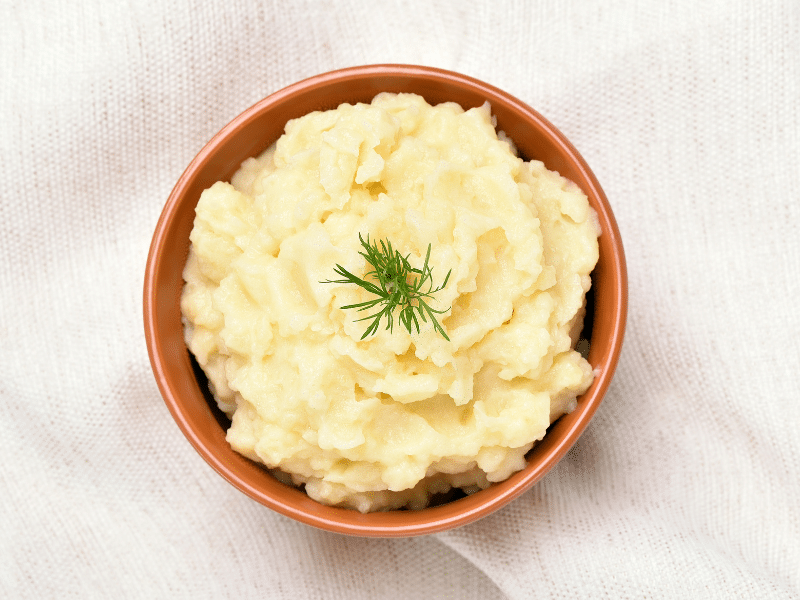 Potato is an amazing source of starch. And you can craft so many different dishes with it! One of the most delicious foods you can make with potatoes is mashed potato. It's creamy and soft! And if you've got a food processor at home, you can make it quickly!
Ingredients
peeled potato (you can use russet or yukon gold)
minced garlic
butter
milk
salt and pepper
How to make mashed potato
cut the potato into cubes
boil the potato until fork tender
in the meanwhile, using a sauce pan or pot, melt the butter with milk, right before the butter is fully melted, transfer to a bowl and set aside
drain well the boiled potato
place the potato on a pan over a low heat for a minute or two to remove the moisture (shake the pan a bit or just casually stir the potato)
transfer to a bowl and mash the potato
stir in the melted butter and milk
season with salt and pepper
serve
Twice Baked Potato
ingredients
russet potato
butter
olive oil
milk
sour cream
grated cheddar cheese
chopped chives or leek
salt and pepper
how to make twice baked potato
preheat the oven to 400 F
prepare baking sheet
wash and sscrub the potatoes under running water
poke the potatoes skin using fork
rub the potatoes with olive oil and salt
place the potatoes on a baking sheet and bake it in the oven for 1,5 hour
remove the potatoes from the oven and let them cool
MAKE POTATO BOATS: slice the potatoes in half (lenghtwise) and scoop around half of the the insides into a bowl so they look like boats. you don't want to scoop the inside too much because when the boat is too thin they can't hold the stuffings well later
in a bowl, mash the potato inside with butter, milk and sour cream
add a pinch of salt and pepper
use the mashed filling to stuff the potato "boats"
sprinkle with cheddar cheese liberally
turn down the heat of the oven into 375 F
arrange the potatoes on the baking sheet and bake in the oven for 15 minutes
remove from the oven and sprinkle with chives or leek
serve
Mashed Sweet Potato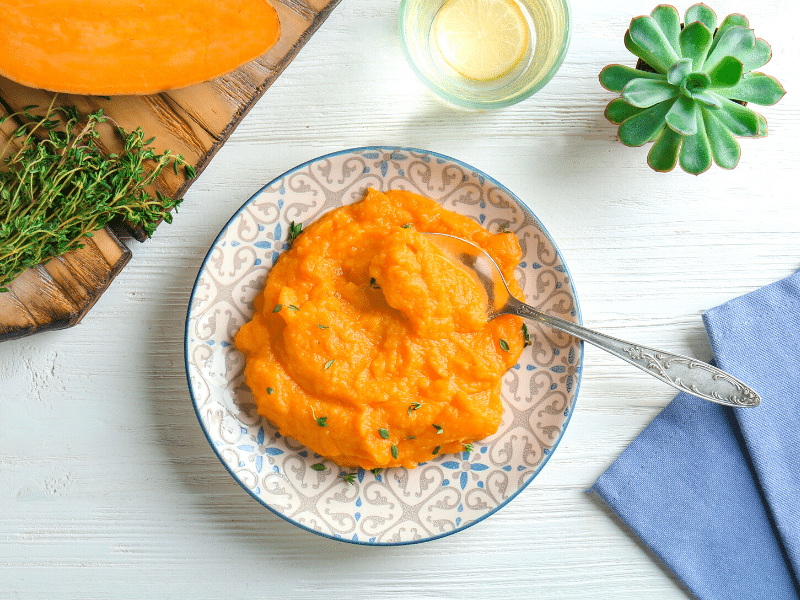 Ingredients
peeled sweet potatoes
minced garlic
butter
salt and pepper
chopped parsley
How to make mashed sweet potato
cut the sweet potato into cubes
using a pot or large saucepan, boil the potato until fork tender (around 10 mins)
drain well
mash the sweet potatoes using potato masher (or you can you food processor too!)
stir in the garlic, butter, salt and pepper
transfer to a bowl, add the parsley on top
serve
Sweet Potato Fries
This could be a side dish or a great snack for the whole family! Look at the colour! They speak beta-carotene so loud! Beta-carotene doesn't only provide beautiful color but also serves as a powerful antioxidant.
Anyway, to cook sweet potato "fries" you can actually deep-fry them OR you can bake them to be on the healthier side!
ingredients
peeled sweet potato
cold water
cornstarch
garlic powder
chili powder
salt and pepper
how to make sweet potato fries
preheat the oven at 425 F
prepare a baking sheet lined with parchment paper
cut the sweet potato into long sticks
soak the sweet potato sticks inside a bowl of cold water for 30 minutes
drain and dry with paper towel
in a separate bowl, mix cornstarch, garlic powder, chili powder, pepper
coat the sweet potato with the seasoning (you can toss them inside a resealable bag
arrange them on lined the baking sheet (make space between each stick)
bake for 15 minutes
flip the sweet potato sticks, place them back inside the oven for an additional 10 minutes
remove from the oven, sprinkle with some salt
serve
Grilled Corn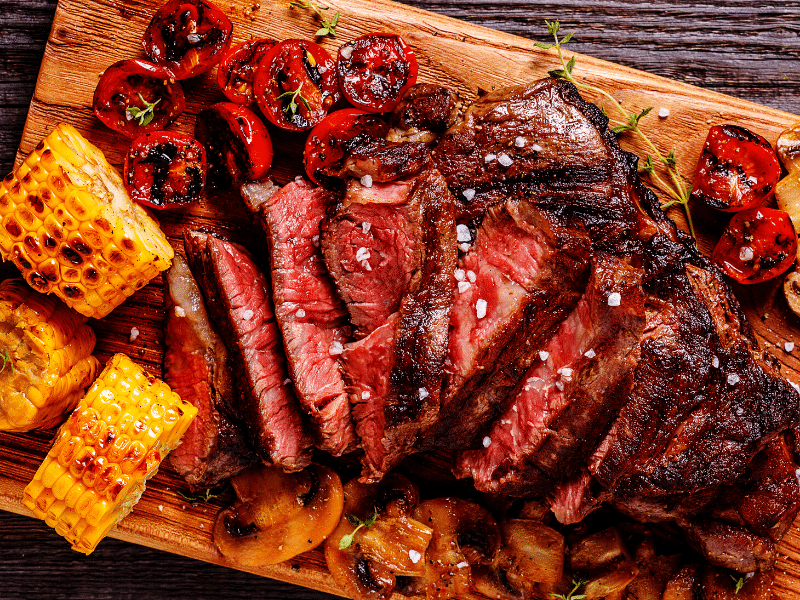 ingredients
how to make grilled corn
preheat the BBQ grill (high heat)
optional: divide the corn into big chunks (1 corn into 2-3 slices)
directly place the corn onto the grill
flip every minute
when it's fork tender, brush with the melted butter (make sure to cover it well)
remove from the heat and serve
Cauliflower Puree
Alright, so this side dish can be a little bit technical, and probably not everyone got the time to prepare it BUT if you love cauliflower, you might want to try it one day. To make cauliflower puree, you will need a steamer pot and a food processor.
ingredients
cauliflower
chicken broth
butter
chopped parsley
salt and pepper
how to make cauliflower puree
in a steamer pot, boil the chicken broth, salt and pepper
cut the cauliflower into small chunks
steam the cauliflower in the steamer pot
after 20 minutes, turn off the heat
transfer the cauliflower into the food processor
add butter
process it until it reaches your desired smoothness
add salt and pepper
sprinkle the chopped parsley on top and serve
Roasted Carrot
Roasted carrots are, in our opinion, one of the most under-rated sides for steak that's available. Often over-looked, these sweet and yummy addition is a healthy way to add some color to your plate… delicious!
Ingredients
peeled carrot
olive oil
oregano
salt and pepper
chopped thyme
chopped parsley
How to make roasted carrot
preheat the oven to 375 F
prepare baking sheets
cut the carrot into long pieces
in a bowl, mix together olive oil, oregano, thyme, salt, and pepper
toss the carrot in it
arrange the carrot on the baking sheet, cover with foil
cook in the oven for 30 minutes
remove the foil, place the carrot back in the oven for 15 minutes
remove from the oven, sprinkle with salt, pepper, and parsley
serve
Arugula Salad
ingredients
washed and dried arugula
olive oil
salt and pepper
lemon juice
a slice or wedge of lemon for garnish
shaved parmesan cheese
how to make arugula salad
tear the arugula leaves, gather them in a bowl
mix in a small bowl: olive oil, lemon juice, salt and pepper
pour the mixture to the arugula bowl and toss well
add the shaved cheese and lemon wedge as topping
serve
Grilled Peaches
ingredients
pitted, halved peaches
lemon juice
olive oil
honey
thyme
salt
pepper
how to make grilled peaches
preheat the grill
in a bowl mix lemon juice, olive oil, honey, thyme, salt, and pepper
grill the peaches for 5 minutes or until they have some char (don't forget to turn them once during the grilling)
remove from the grill
toss the peaches in the lemon juice mixture
serve
Sauteed Green Beans With Lemon And Garlic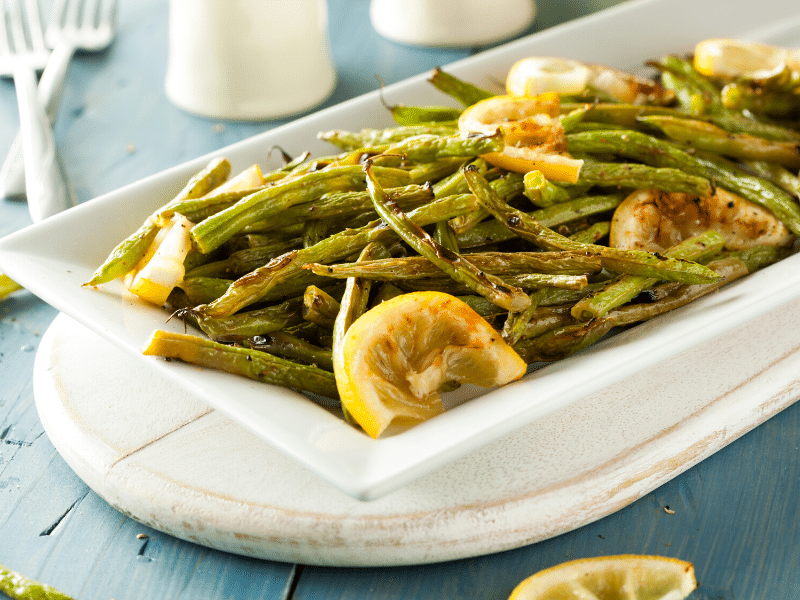 ingredients
trimmed green beans
olive oil
minced garlic
sliced lemon
salt and pepper
how to make sauteed green beans
BLANCH THE BEANS FIRST: boil 1/2 cup of water in a cup, then add the green beans. After 2-3 minutes, turn off the heat and drain the green beans. Set aside.
Prepare a pan on a medium heat, drizzle with 1 tbsp of olive oil
Add the mince garlic and the green beans. Stir for a minute
Season with salt and pepper
Grab the sliced lemon and squeeze the juice over the beans
Turn off the heat
Serve with the remaining slice of lemon
Grilled Tomatoes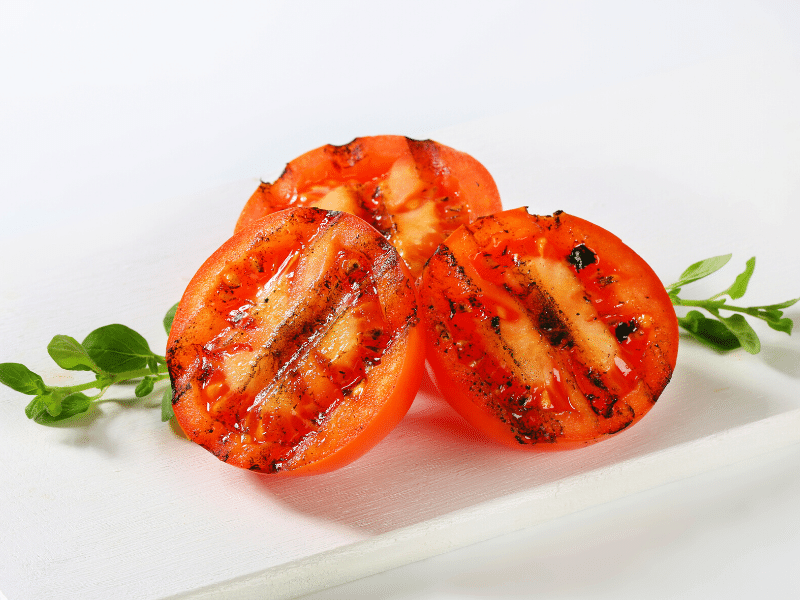 ingredients
halved tomatoes
olive oil
minced garlic
salt and pepper
how to make grilled tomato
preheat the grill to medium-high heat
brush the grate with oil
brush each piece of tomato with olive oil, sprinkle with salt and pepper, then place them onto the grill
let them sit for 3 minutes, then flip them and give them 3 more minutes. Do not overcook
remove from the heat and serve (you can add grated parmesan if you want!)
Grilled Pineapple
ingredients
peeled and cored pineapple
butter
honey
cinnamon
cooking spray
how to make grilled pineapple
prehat your grill pan, coat with cooking spray
mix the butter + honey + cinnamon in a bowl
slice the pineapple
brush the pineapple slices with the butter mixture
place the pineapple slices on the grill pan for 2-3 minutes per side
turn off the heat
serve
Seared Asparagus
And let's end this list with the simplest idea and one of the "og" sides for steak: seared asparagus. Why simple? Because you can cook it together with your steak in 1 searing pan at one time. Cooking your steak with asparagus is not only time-saving but also a healthy idea since asparagus contains very low fat, low calorie, and a decent amount of fiber.
ingredients
trimmed asparagus
salt and pepper
how to make seared asparagus
Basically, just place your trimmed asparagus next to your slice of steak on the pan and season them together with salt and pepper. You want to make sure that the asparagus is tender enough before removing it from the pan. You can serve your asparagus next to your steak (after giving 5-10 resting time for the steak).
What Goes With Steak?15 Steak Sides (+ How To Make Them!)
IDEAS
french fries

potato wedges

mashed potato

twice baked potato

mashed sweet potato

sweet potato fries

grilled corn

cauliflower puree

roasted carrot

arugula salad

grilled peaches

sauteed green beans with lemon and garlic

grilled tomatoes

grilled pineapple

seared asparagus
DIRECTIONS
Pick your favorite idea from the list
Gather the ingredients and prep the dish
Serve with your steak!