When imagining duck breast for your dinner, what's in your mind?
Hmm.. maybe it's something related to tenderness, juiciness, or strong flavor, am I right?
Whether you roast, grill, or fry the duck breast, there are various side dishes that you can serve with!
So, what to serve with duck breast?
You can serve duck breast with sauces (orange sauce, plum sauce, cherry sauce, raspberry sauce, pineapple sauce), different kinds of potato dishes, pumpkin mash, and various vegetables (be it a salad or simple vegetable dish).
Duck breast is a fantastic food that can be paired with various things.
Although it's somewhat luxurious food, it doesn't have to be paired with something fancy. In fact, you can use budget-friendly veggies to pair with it.
The duck breast itself can be cooked in various ways and you can pair it with foods that are cooked in various ways too.
Please check out this list and if you like any of them, don't forget to try it at home!
Dauphinoise Potatoes (Potatoes au Gratin)
Dauphinoise potatoes or potatoes au gratin is a french dish. The ingredients are pretty simple and super easy to find.
You will need potatoes (of course), butter, cream, cheese (you can use cheddar or mozzarella), garlic, salt, pepper, thyme, and if you want you can add nutmeg and bay leaves.
How to make potatoes au gratin for duck breast:
Preheat the oven to 350 Fahrenheit
In a measuring jug, mix well butter, cream, and minced garlic. You can also add salt, pepper, and thyme here
Wash, peel, and slice potatoes into thin pieces
Arrange the sliced potatoes in a baking dish [use it as a base]
Pour 1/3 of the creamy mixture on it
Add a generous amount of grated cheese to it [DON'T USE ALL OF IT].
On the top of the base layer, repeat step 4+5+6 ONCE
On the top of the second layer, repeat step 4 and 5 [without 6]
Cover the dish with foil or lid and put it inside the preheated oven.
After 1 hour or after the potatoes becomes half-tender, use the remaining cheese as a final layer on top.
Bake for another 10 minutes.
Let it cool.
Cherry Sauce
Duck breast and cherry sauce can be an awesome combination!
For the carbs, you can opt for couscous so your cuisine can have some variety in textures.
How to make the cherry sauce for duck breast:
Pour 1/2 cup of water into a pan on medium heat.
Immediately add cornstarch (1 tbsp), lemon juice (1tbsp), and sugar (2 tbsp)
Whisk until it's thick
Keep stirring while adding frozen cherries (2 cups)
Wait until you see bubbles all over the mixtures (not only the edges!). It should take around 12 minutes. During this period, don't forget to give the mixture some nice stir every 2 minutes or so.
Let the cherry sauce cold before serving
BTW, if you have fresh cherries at home instead of frozen ones, you can use them. Just add the water a little bit.
Baby Spinach and Mushroom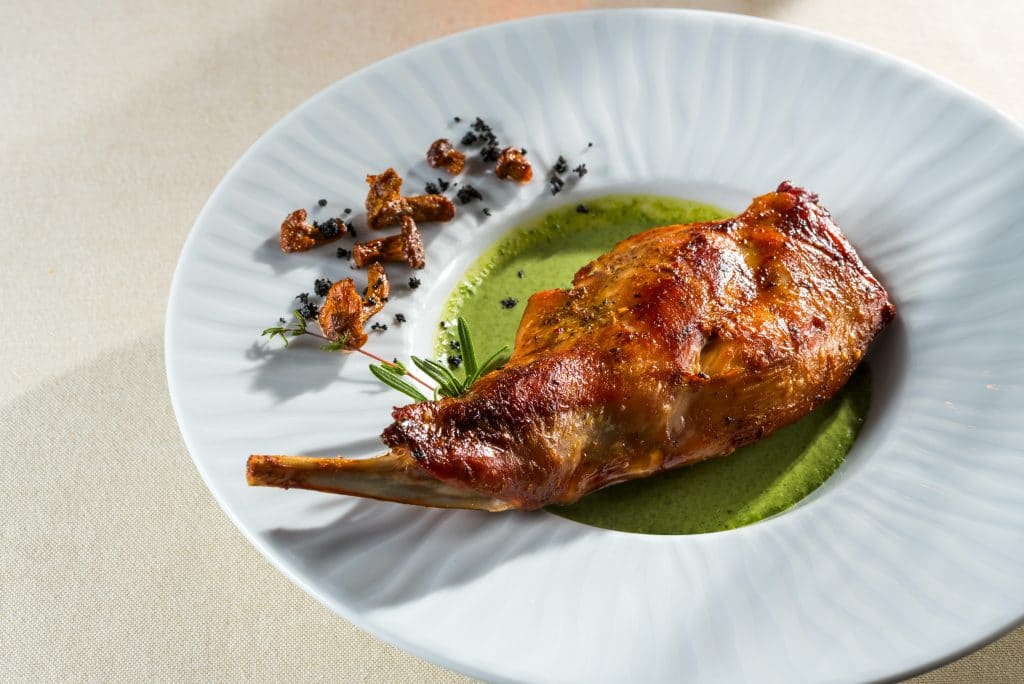 I mean, look at that crispy skin!!
You can pair the crispy and juicy duck breast with a simple mushroom and spinach saute.
This can be a quick and easy option. So, while waiting for the duck breast to be pan-seared on medium heat [around 9 minutes, skin side down], you can start washing and chopping the mushroom and spinach.
And then, while waiting for the duck breast to be roasted inside the oven [on a cast iron skillet], you can start sauteing the mushroom and spinach.
Plum Sauce
Fry the duck breast, pair it with stewed cabbage and onion. And then, put some plum sauce around it.
To make the plum sauce, you will need red plums, brown sugar, star anise, and maybe soy sauce.
Red Cabbage
Roast the duck breast and pair it with red cabbage.
Pomegranate and Salad
Roast the duck breast. Pair it with pomegranate and salad.
Mashed Potato
Roast the duck, pair it with mashed potato, lemon slices, and veggies.
It might be simple, but it can look appetizing and you can even add tomato cherry to enhance the color variety!
Spicy Red Cabbage and Potato Knodel
This traditional dish from Germany might look good on your dining table!
Fry the duck breast, pair it with spicy red cabbage and potato knodel.
Potato and Berries
An Estonian cuisine!
Roast the duck breast, pair it with potatoes and blackcurrant berries.
Don't forget the green veggies on the top!
Asparagus and Almond
Zucchini Noodles
Roasted duck breast with zucchini noodles can be an option when you want something healthy!
You can make zucchini noodles using a spiralizer!
Pineapple Sauce
Raspberry Sauce
Roast the duck, place it over raspberry sauce, and pair with arugulas.
Pumpkin Mash
Don't forget to garnish it with mint leaves and sprinkle some pine nuts over it!
Ramen
Ramen is one my personal favourite dishes, and this is primed for great, crispy duck breast.
Get creative with Shiitake Mushrooms, egg and roasted sesame seed gardnish.
Wonton Soup
For that authentic Chinese staple, wonton soup, add pork dumplings and don't hold back on the fresh chili.
Rice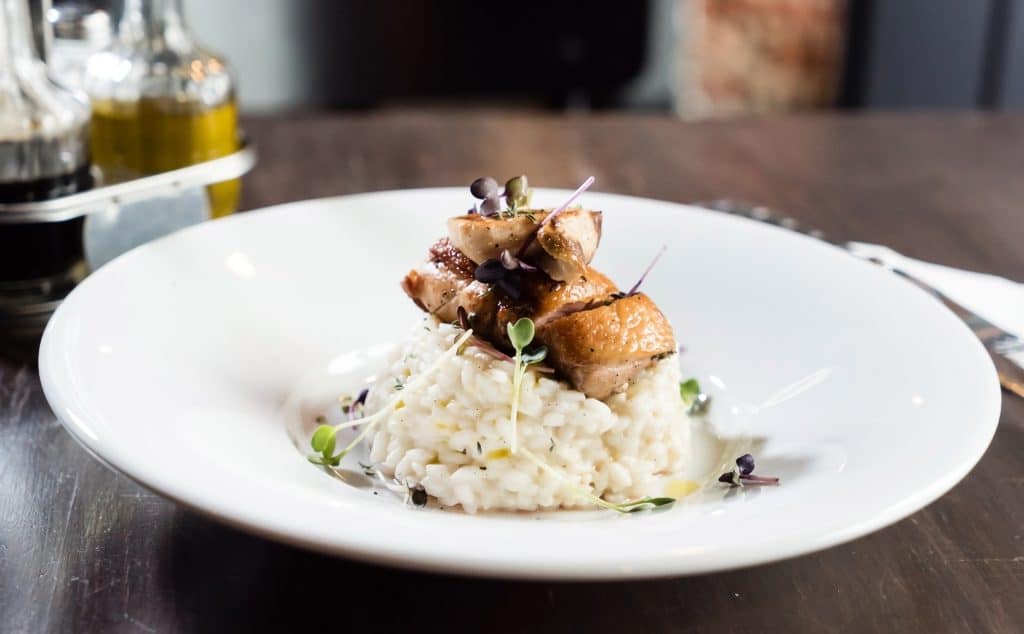 Sticky Rice is a great Asian take on this popular dish, alternatively you can also consider Risotto.
If you're out of ideas or out of energy to cook complicated things….
Guess what, you can pair duck breast with SIMPLE WHITE RICE!!
Yeah, that's totally edible! Although if you have a bit of energy to craft a dressing, a few drops of orange sauce would make things so much better.
Cooking white rice in a pot is totally doable. But if you want something more practical, consider using a rice cooker instead.
Since you're here, don't forget to see these posts:
What vegetables to serve with duck breast
What to serve with smoked duck
What to serve with duck confit
What To Serve With Duck Breast? | 15 Tasty Sauce + Side Dish Ideas
IDEAS
Orange and potato

Cherry sauce

Baby spinach and mushroom

Plum sauce

Red cabbage

Pomegranate and salad

Mashed potato

Spicy red cabbage and potato knodel

Potato and berries

Asparagus and almond

Zucchini noodles

Pineapple sauce

Raspberry sauce

Pumpkin mash

Rice
DIRECTIONS
Pick your favorite idea from the list
Gather all the needed ingredients and prepare the dish
Serve with the duck breast and enjoy!