Duck breast is juicy, tender, and.. just delicious. Serving a slice of duck breast with plain white rice sounds super simple and easy to do. But you can do a lot better. And I'm not talking about the sauce. I'm talking about the savory source of vitamins, minerals, and fiber. Or just call it vegetables.
What vegetable to serve with duck breast?
You can pair a duck breast with baked asparagus, green peas, zoodles, braised white cabbage, red cabbage, broccoli, carrot, arugula, baby spinach, pumpkin mash, or different kinds of potato dishes.
Although it's known to be high in fat, you can still enjoy the rich taste of a duck breast in a decently healthy way by pairing it with some vegetables. The veggies should be present in a considerable amount. The purpose of involving veggies in your diet, besides the, ahem, providing some tasty flavor, is to give your body some fiber, minerals, and vitamins. Don't add vegetables only to decorate your plate. Your body needs it too.
Oh, and BTW, down below are some ideas that you can try to serve your duck breast. Again, serve the veggies in a good amount. You can do better than these pictures below.
Baked Asparagus and Nuts
Bake your duck breast together with asparagus and nuts inside the oven.
You only bake it once but once it's ready you get 2 kinds of dish that complete each other. Oh, don't forget to sprinkle some pine nuts beforehand.
Green Peas and Pesto Sauce
Yes, green peas and roasted duck breast can work. But if you want something more greens, don't forget to add some pesto. Pesto is delicious!!
Zoodles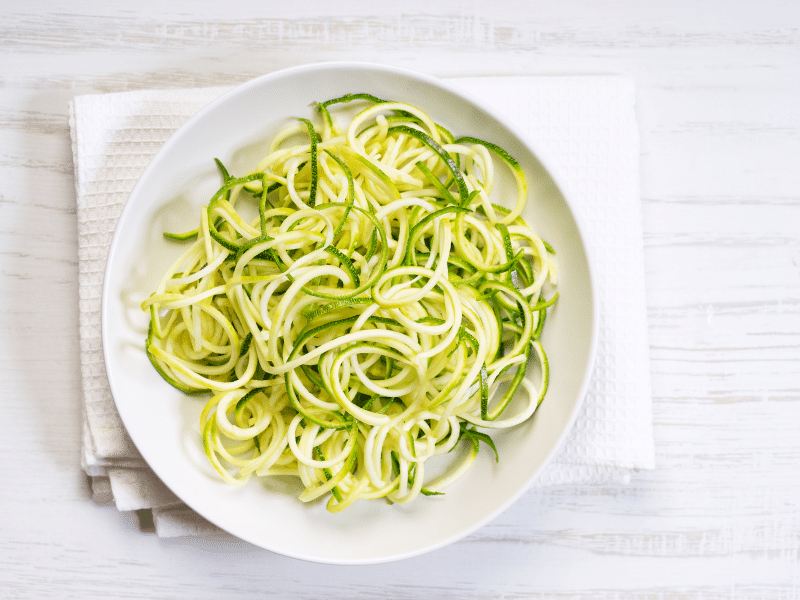 Zucchini noodles are a great match for various dishes, including duck breast! This healthy "noodle" can balance the overall taste and reduce your "guilt" of eating high-fat, high-calorie food, such as duck breast.
Braised (White) Cabbage
Braised cabbage is so easy to make. There are actually several ways to make it. But here's a super simple idea: Slice or chop the cabbage to your liking. Melt butter on a medium-heat pan, add the cabbage in, add some salt and pepper, and stir it well. When the cabbage looks weak and lazy, it's done.
Red Cabbage
If white cabbage doesn't stun you enough, try red cabbage. Sautee it with butter, garlic, and onion, and then sprinkle a pinch of salt and pepper over it.
Broccoli
Let's not forget this uniquely-shaped green vegetable that is [usually] hated by kids; broccoli.
Before serving it with a duck breast, you can stir-fry or bake the broccoli and season it with something tasty to overcome [or at least reduce] the bitterness.
Carrot
Honey glazed or roast carrots work best.
Arugula
For a light salad, use Arugula, it's taste compliments the duck perfectly.
Baby Spinach
Add oil to a heated pan. Stir in sliced garlic or onion, baby spinach and sliced mushroom and then add a pinch of salt and pepper.
Pumpkin Mash
Potato Mash/ Potato Knodel / Potato Roast
If you love playing on the safe side, try potatoes. Potato is a versatile food that you can process into various delicious dishes!
SEE ALSO
What to serve with duck confit
What to serve with smoked duck
What Vegetables to Serve With Duck Breast? Check Out These 11 Options!
LIST OF VEGGIES
baked asparagus

green peas and pesto

zoodles

braised white cabbage

red cabbage

broccoli

carrot

arugula

baby spinach

pumpkin mash

potato mash/potato knodel/potato roast
DIRECTIONS
Pick your favorite vegetable from the list
Prep it into a dish (sautee/stir-fry/baked/roast)
Serve it with the duck breast