Did you notice, there are so many organizing products the dollar store offers us. Some of them seem too good to be true because they are just so cheap!
So here I am today to share you a list of incredible organization hacks you can actually get for a very low price. And yeah, these products are so easy to find. So, why should you spend thousands of dollar to organize your home if you can do it inexpensively?
Take a look at these DIY home organization ideas below!
Use a Bin to Organize Your Ribbons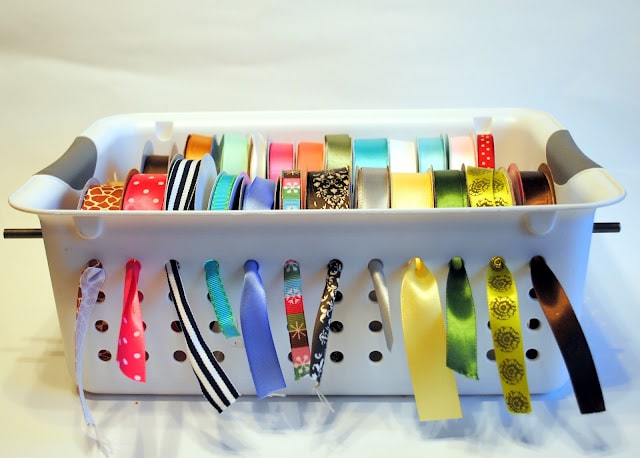 If you love doing DIY things, you might have tons of beautiful ribbons in your craft room.
Grab a cheap bin from the dollar store and use it as a new home for your ribbons. Arrange the ribbons side by side and pull each ribbon end through the closest hole.
Now you have a genius organizer for your ribbon that is sanity-saving!
Use Wicker Shelving to Organize Your Towels
Get some cheap wicker basket and put them on your bathroom walls. Use it to organize towels, toilet paper, or other bulky toiletries. A smart way to add a rustic touch easily!
Hang belts using shower hooks
Install a cheap shower hook in your closet and use each hanger to hold your belt.
This is a great way to save your sanity in the morning [or whenever you need to find a particular belt!]
Use a wire basket to keep your cutting boards
Optimize the space you have behind your cabinet door by installing a cheap wire basket. You can use it to arrange your collections of cutting boards.
Organize Your Freezer with Baskets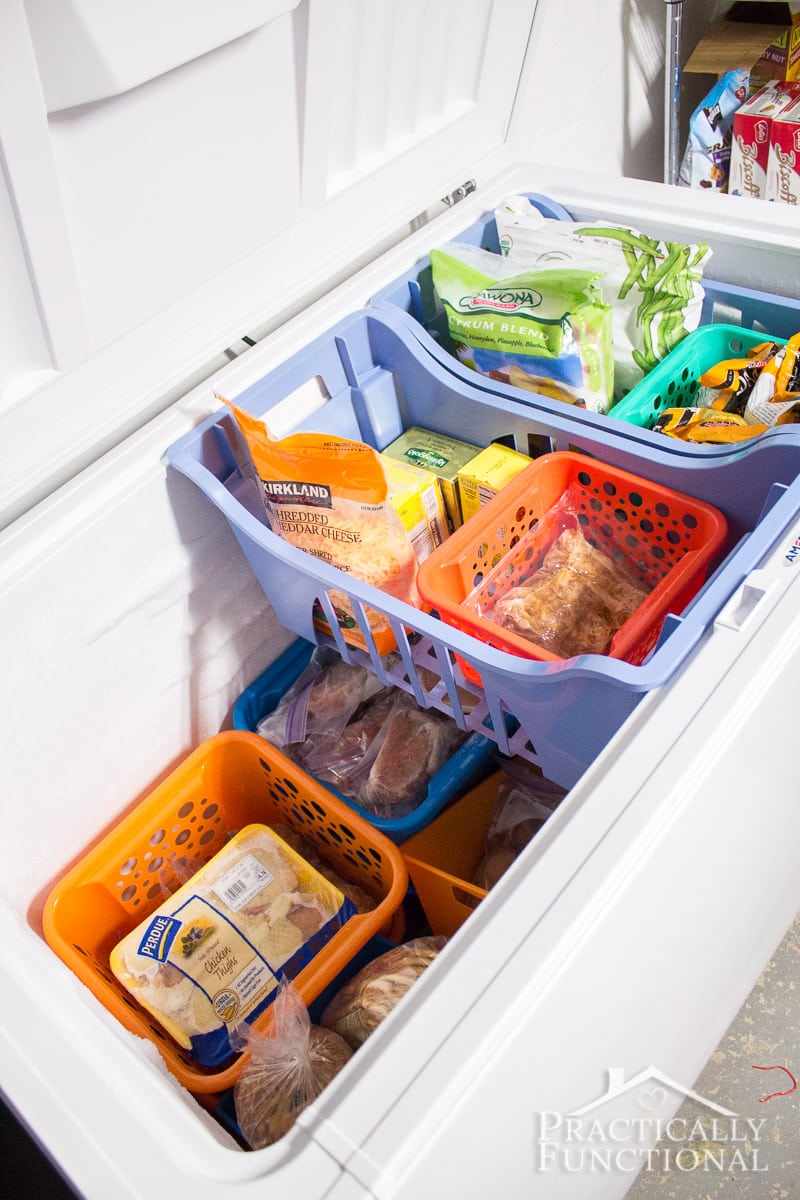 Got too much stuff inside your freezer? Try this smart hack.
Install some baskets to organize the foods by items or by expiration date.
Use Buckets to Organize Your Kids Stuff
Train your kids to be disciplined by letting them learn to organize their own stuff in their special personalized bucket.
Grab those baskets cheaply from the dollar store and paint it with your kid's favorite color.
Great way for them to learn, great way for you to relax a little bit
Use plastic baskets as drawer dividers
An abundance of makeup products inside a drawer is a painful mess to see. So have yourself some plastic baskets and arrange them side by side inside your drawer.
Use it to divide your makeup products, kitchen utensils, or office supplies!
Use kitchen utensils tray beyond the kitchen
There is a lot of stuff inside the bathroom. So you gotta find the most effective way to anticipate any mess.
Get a kitchen tray to organize your toiletries. You can install it in your drawer so you can easily pick whichever product you need super quickly!
Organize your spice using cheap jars
If you love practicing international cuisines at home, chances are you have a lot of herbs and spices in your kitchen.
So try this awesome hack to organize them.
Grab your favorite style of jars from the dollar store and label them with pretty printables. Never get confused anymore which one is the oregano!
Organize your mail beautifully using a shower caddy
Organize your mail impressively using this shower caddy.
The picture says gold, but sure you can choose your favorite color to spray your own shower caddy.